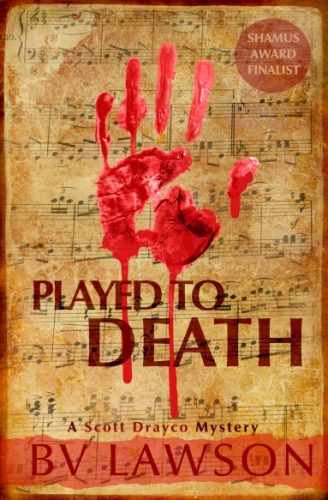 About Played to Death: A Scott Drayco Mystery:
In this Shamus Award–nominated novel, former FBI agent Scott Drayco inherits a dilapidated opera house that he hopes to sell. The only problem: A gruesome murder just took place within its walls. With hopes for a quick sale dashed and himself a suspect in the murder, Drayco digs into very old and very dangerous secrets to solve the crime and clear his name. Along the way, Drayco must dodge a wary sheriff, hostility over coastal development, and the seductive wife of a town councilman – before the tensions explode into more violence and he becomes the next victim.
Buy the book:
Author Bio:
BV Lawson's short stories have been nominated for the Pushcart Prize, honored by Derringer, Golden Fedora, Gemini Magazine and Dillydoun Flash Fiction Contest Awards, and BV was also a contributor to the Anthony Award-winning Blood on the Bayou. BV's poetry has appeared in Noir Riot, International Poetry Forum, Midwest Poetry Review, and more. BV's Scott Drayco crime novels have also been named Best Mystery in the Next Generation Indie Book Awards, chosen as a Featured Library Journal Pick, and been a finalist for Shamus, Silver Falchion, Daphne, and Foreword Book Reviews Awards.