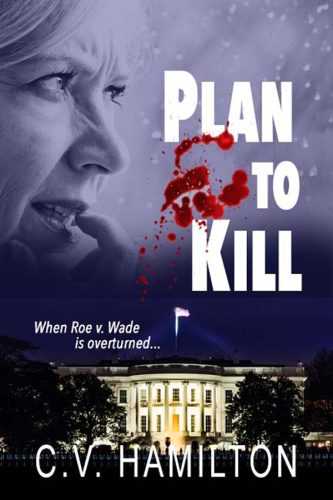 About PLAN TO KILL by C.V. Hamilton:
"Outrageous and controversial!"
Businesswomen don't plot. They plan. They know a solid plan is key to success, especially if your goal is to assassinate the President.
When the President of the United States and the Supreme Court succeed in reversing Roe vs. Wade, four outraged Las Vegas professional women, each with a personal abortion experience, plan the assassination. A restaurateur, a retired Toxicology Specialist, a CPA, and a Congresswoman each contribute to the brazen plan. Can they pull it off?
After his sudden death by poison, a Special Commission, led by Special Agent Jake Wulfram, is established to investigate.
Though one woman steps forward to claim sole responsibility—surrendering her future and possibly her life for her convictions—the nation is in for a shocking surprise.
"We recommend this book to adults who like thrilling crime mysteries."- Online Book Club
"A masterful novel of murder, plots, and surprises that I read straight through without stopping. A totally satisfying read!" – Janice Van Cleve, author, researcher
Buy the book:
Author Bio:
Carolyn V. Hamilton lives the U.S. expat life up in southern Ecuador's Andes mountains in the Spanish colonial town of Cuenca, one of five UNESCO World Heritage Sites in Ecuador.
When she's not struggling with "Spanglish", she likes to write books, create art journals, cook, and paint photo-realistic watercolors from her personal photo collection. She also likes chocolate, Border Collies, comedy, alpaca shawls, adult coloring, and discovering new restaurants.
Raised as a nice Lutheran girl from Seattle, in the rainy Pacific NW area of the United States, she has no problem with lockdowns because as a child she learned to play quietly in her room. Gray, rainy days feel normal, and she regards sunshine with suspicion.
In addition to writing memoir, fiction and non-fiction, she loves to lead writing workshops, and coach aspiring memoir writers.
Professionally trained as an illustrator and graphic designer, she spent over three decades as a marketing executive and copywriter in the real world of Mad Men. Her BA, in Liberal Arts, is from Antioch University Seattle (where she discovered she could get legitimate credits for "life experience.")
Carolyn's other adventures have included two years' service as a U.S. Peace Corps Volunteer in Suriname (chronicled in part in her memoir, HELP! I Married an Alien A Comedian), and a stint—in her "younger days"—as a Playboy Bunny.
And it's true that she now shares her fifth-floor, penthouse-like condominium with that ex-husband, the stand-up comedian from Las Vegas.