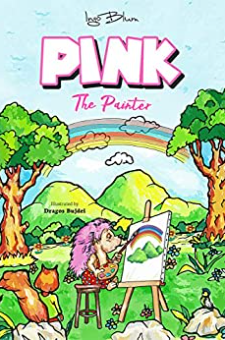 About Pink The Painter (The Adventures Of Pink The Hedgehog Book 1):
Teach Your Children The Value of Nature.
Can you change the weather however you like it? Little hedgehog Pink lives in a cozy cottage on the edge of a forest. He just wanted to paint a painting for his empty wall. Together with his friends Rudolf, the squirrel, and Macky, the chickadee, he goes to the Magic Mountains and paints some pictures. But after a storm, the paintings change. The weather is exactly like in the paintings. Soon Pink is the star in the forest. But when finally one painting is stolen and a fire nearly burns down the whole forest, Pink and his friends decide to hide the paintings.
Will they ever get nature to do its work again?
The Power of Art.
Fun, cute, and entertaining with beautiful illustrations by Dragos Bujdei, this book is a must-have for children, parents, and teachers to teach kids to deal with nature and climate! If you and your children like courageous animals, a bit of mystery, and imaginative adventures, and true art, then you'll love this charming story.
– Reading level Kindergarten – 3 – Introduces concepts of problem-solving, cooperation, and teamwork. – Free ebook with paperback – Read how a little hedgehog finds his own way to save nature
GET THIS BOOK NOW AND ENJOY!
Buy the book:
Author Bio:
Mit meinen teils mehrsprachigen Bilderbüchern und kurzen Geschichten bin ich in erster Linie daran interessiert, neue Erfahrungen und Anregungen und neue Perspektiven auf unsere Welt zu vermitteln – auch im fantastischen und magischen. Ich möchte das auf spielerische Weise tun und nicht zufällig. Das Schreiben aus der Perspektive der Kinder öffnet die Tür zu Welten, die von Elfen und Tieren, Meerjungfrauen und Königen, Zwergen und Riesen bevölkert sind – Wesen, die Probleme haben und sie lösen können, indem sie einfach die Beschränkungen unserer realen Welt umgehen.
Ich würde mich freuen, wenn Ihr mir folgt auf:
Web: www.ingoblum.com
Instagram: ingosplanet
Facebook: https://www.facebook.com/ingoblumofficial/