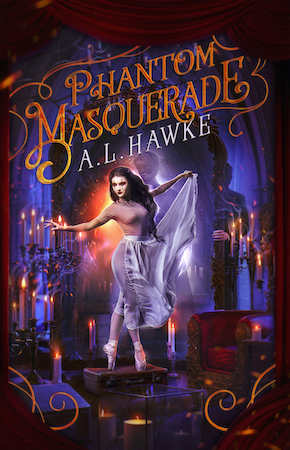 About Phantom Masquerade:
Mina Daaé dreams of performing on Broadway. Like her great ancestor, Christine Daaé, who sang at the prestigious Palais Garnier a hundred years before, Mina has the voice of an angel. But after graduating from Conservatoire de Paris, fortune fails her. Until the circus comes to town.
Mina's close friend Toni Vollini offers her a role in his new Broadway play mixing Mozart with clowns. Known as The Harlequin, the musical is an inimitable adaptation of the opera Don Giovanni. Toni says Mina will soar, but with pathologic acrophobia, she's afraid she'll fall. And the ghost in her head says she will.
Toni and a ghost vie for her love, but Mina thinks her ghost is just another hallucination. Or is her ghost a phantom of the opera?
Phantom Masquerade is available free July 30th for a very limited time.
Buy the book:
Author Bio:
A.L. Hawke is the author of the internationally bestselling Hawthorne University Witch series. The author lives in Southern California torching the midnight candle over lovers against a backdrop of machines, nymphs, magic, spice and mayhem. A.L. Hawke writes fantasy and romance spanning four thousand years, from pre-civilization to contemporary and beyond.