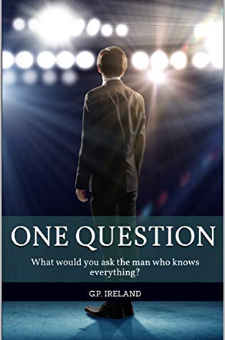 About One Question: What would you ask the man who knows everything?:
If you could ask a man who knew everything one question, what would you ask?
Joe Phillips has an awakening one afternoon.
After collapsing at a local baseball game, he opens his eyes to find he has the collective knowledge, memories, and intellect of everyone who has ever lived, including those alive today.
It's not long before he becomes a global phenomenon; some people think he's a con-artist, others believe him to be the Second Coming of Christ.
A series of Question & Answer seminars are organised, with the top minds in the country invited, each allowed to ask one question, and one question only.
Although not everyone is happy with what Joe has to say. Religious leaders of all faiths come together to condemn the man who claims God doesn't exist, and the Church is not an enemy you want to take lightly.
Everyone wants to meet him, and three profoundly different people, from remarkably contrasting backgrounds, are unaware they all have the same question to ask, one they might not want to hear the answer to…
Buy the book:
Author Bio:
After a serious illness left him fighting for his life as a teenager, G.P. Ireland realised life was short and spent the next 20 years travelling the world, experiencing different cultures, meeting new people, searching for the best in humanity.
Born and raised in Belfast, he has lived in the United States, Australia, and New Zealand, before finding himself back home in Ireland where he currently resides with his wife and two children.
He can be contacted by emailing: onequestion@gpireland.com