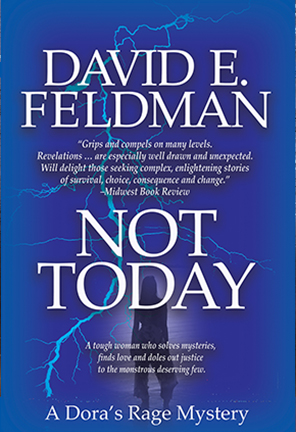 About Not Today – Dora's Rage Series Book 1:
Fans is of Jack Reacher, Lisbeth Salander and Eve Dallas will Love Dora Ellison, tough woman who solves mysteries, finds love and doles out justice to the monstrous deserving few.
Sanitation worker DORA ELLISON is a sweet, physically strong woman who would never dream of personally investigating a murder. But when her beloved police Lt. Francesca "Franny" Hart is coaxed by a disguised voice on repeated phone calls to investigate a "murder that wasn't a murder" and tragedy strikes, the enraged natural born fighter won't let it stand … NOT TODAY – Dora's Rage Series, Book 1.
REVIEW EXCERPTS:
"The revelations that come back to a single event are especially well drawn and unexpected"
"a story that grips and compels on many levels"
"Readers who anticipate a murder mystery alone should be advised that, in fact, Not Today! is so much more. Its special brand of inspection will delight those seeking more complex, enlightening stories of survival, choice, consequences, and change—all powered by the dynamic Dora and her changing world."
—Diane Donovan, Senior Reviewer, Midwest Book Review
Price: FREE on 10/14/21 and on Kindle Unlimited. Or … $4.95.
Buy the book:

Author Bio:
David E. Feldman has written 5 books of his own and ghost-written eleven others. He has made several films, won 2 film awards and recently won a playwriting contest. He has an MLS degree in Library & Information Science.
You can find his books on Amazon.com and elsewhere, under his name, David E. Feldman.
They include:
Pilgrimage from Darkness Nuremberg to Jerusalem
Bad Blood, a Long Island Mystery
Born of War: Based on a Story of American Chinese Friendship
How to Be Happily Married
Not Today, Dora's Rage Mystery Series Book 1
He works extensively as a ghostwriter, via his ghostwriting website.
His film, Everyone Deserves a Decent Life (directed, produced) won the Alfred Fortunoff Humanitarian Film Award at the Long Island Film Expo, 2014. His film, Let Me Out! (Written, directed, produced) won Best Psychological Thriller at the 2009 New York International Film Festival. His play, Love Lives On, was a winner of the inaugural Artists In Partnership Inaugural Playwriting Contest.