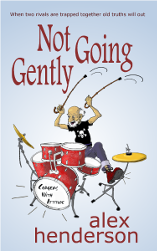 About Not Going Gently by Alex Henderson:
Things aren't going so well for elderly widower Mitch.
His daughter thinks he's rushed himself into a residential dementia centre before he becomes a burden upon her. In truth he's more worried that if he doesn't lock himself away then the secrets of his past will get out.
The care home could be a whole lot nicer, but it's all he can afford and, anyway, Mitch is determined. He's sold his house and signed his freedom away. Let them take care of him for the muddled remainder of his days.
Except that he's not really in need of a place like this yet. And far worse – his former best friend and old band mate Ray is already here.
The last person he'd ever want to be trapped with.
Especially since the secrets are about him.
With a cast of vivid characters who will shock and delight in equal measure, Alex Henderson's latest is a poignant and darkly hilarious tale of friendship, regret and the need to squeeze the juice out of every day we're given.
Buy the book:

Author Bio:
This is Alex Henderson's second adult comedy, the first being the massively successful Girth. You can also catch his hilarious new one – Too Big To Fail – which is out now!