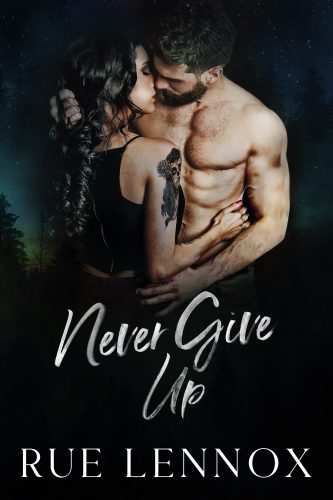 About Never Give Up:
He says there can never be anything between us… but I still want him.
Devastation and devotion are two sides to the same coin, and Brian Miller flips the coin to my heart without even trying.
He thinks he's not good enough—that I deserve better than a damaged single father.
But his demons can't be any worse than the one stalking my every move in our small town—the one no one can bring to justice.
Despite the age difference between us, I'm not a little girl, and I know the truth. Brian will never forgive himself for not being there when I needed him most.
But he's the only man who can rescue me now.
Buy the book:
Author Bio:
Rue loves to torture her readers. She smiles while ripping out their hearts with her words. Then she finishes off the torment by holding their hearts in her hand with a straw punched through the top and a few pieces of fruit and a little umbrella while she plots new and inventive ways to make her readers love to hate her.
You know the stories Rue loves to write. The ones filled with heroes who make you swoon, anti-heroes who smile viciously as the world burns down around them, just as long as the woman they love stands at their side… Then there are the happily ever afters that bring you to your knees whether you want to be there or not.
If you can't find Rue sitting in her office or on the deck staring at the trees, she might be found curled up in a blanket in the middle of the summer or hiding in plain sight in a book store while she enthusiastically chats up strangers like its her job.