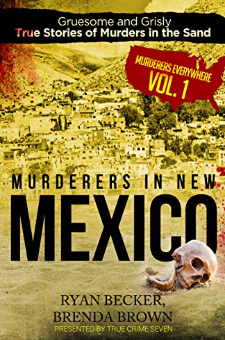 About Murderers in New Mexico: Gruesome and Grisly True Stories of Murders in the Sand (Murderers Everywhere Book 1) by True Crime Seven:
10 sadistic killers. One state. Countless lives that will never be the same again.To the outside world, New Mexico is the epitome of art, culture, and pristine, picturesque landscape.
Buy the book:

Author Bio:
True Crime Seven consists of true crime enthusiasts and writers from all walks of life. Together we strive to explore the stories of the murderous minds in this world. From unknown murderers to serial killers. It is our goal to write books for true crime enthusiasts to satisfy their morbid curiosities while sparking new ones.