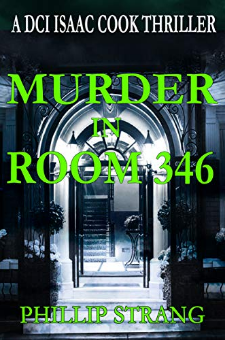 About Murder in Room 346 (DCI Cook Thriller Series Book 7):
A Downmarket Hotel. A Moral Campaigner. A woman who had killed her husband. Both Dead. Both Compromised.
On the bed, the naked bodies of a man and a woman. 'Bullet in the head's not the way to go,' Larry Hill, Isaac Cook's detective inspector, said.
'Do you recognise him?' Detective Chief Inspector Isaac Cook said.
'James Holden, from what I can see.'
'Rent by the hour?'
'Not according to her handbag. There's a business card. She worked for the man.'
'You know this will be all over the media within the hour,' Isaac said.
'James Holden, a proponent of the sanctity of the marital bed, man and wife. It's bound to be.'
Buy the book:
Author Bio:
Phillip Strang, an avid reader since childhood, was born in the late forties in England.
In his early twenties, the author, with a degree in electronics engineering, left England for Sydney, Australia.
Now, nearly fifty years later, he still resides in Australia, although many intervening years spent in a myriad of countries, some calm and safe – others, no more than war zones.
The author of thirty-one books, the majority of them crime thrillers based in the United Kingdom, he has also written several books on terrorism and one on a pandemic.
Author's Website: http://www.phillipstrang.com
Facebook: https://www.facebook.com/PhillipStrangWriter/