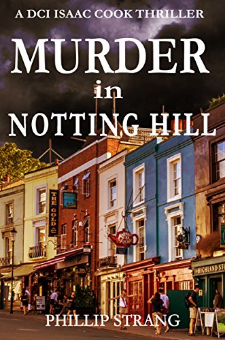 About Murder in Notting Hill (DCI Cook Thriller Series Book 6):
One murderer, two bodies, two locations, and the murders have been committed within an hour of the other. There's a connection, but what is it?
They're separated by a couple of miles, and neither woman has anything in common with the other.
Isaac Cook and his team at Challis Street Police Station are baffled as to why. One of the women is young and wealthy, the daughter of a famous man; the other is poor and hardworking and unknown.
Buy the book:
Author Bio:
Phillip Strang, an avid reader since childhood, was born in the late forties in England.
In his early twenties, the author, with a degree in electronics engineering, left England for Sydney, Australia.
Now, nearly fifty years later, he still resides in Australia, although many intervening years spent in a myriad of countries, some calm and safe – others, no more than war zones.
The author of thirty-one books, the majority of them crime thrillers based in the United Kingdom, he has also written several books on terrorism and one on a pandemic.
Author's Website: http://www.phillipstrang.com
Facebook: https://www.facebook.com/PhillipStrangWriter/