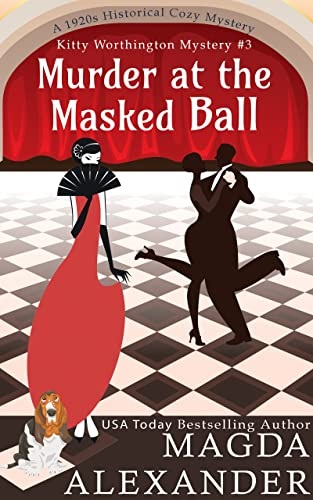 About Murder at the Masked Ball By Magda Alexander:
Release Day – June 14th!!
FREE on Kindle Unlimited!!
Amateur sleuth Kitty Worthington once more investigates when a noble lord plummets to his death, and a dear friend is suspected of murder. Can she catch the killer before her friend swings from the wrong end of a rope?
London. 1923. When an invitation arrives to the Duchess of Brightwell's Midsummer Masked Ball, Kitty Worthington does not even think of declining. Not with a mother on the hunt for a noble husband for her. But no sooner does she curtsy to her hostess at the ball than tragedy strikes. A very dead earl is found at the bottom of a staircase, clearly the work of foul play.
Having proven himself a dab hand at dealing with the nobility, Scotland Yard Detective Inspector Robert Crawford is soon asked to investigate. In no time at all he hones in on Lord Newcastle, a friend of Kitty's, who'd earlier pummeled the earl for sorely abusing his wife.
Afraid her friend may wrongfully pay with his life, Kitty once more organizes her ace team, including her maid, three noble lords, a beloved sister, a lady, and Sir Winston, her still flatulent Bassett Hound. From the seediest parts of London to the fancy mansions of Mayfair, they fearlessly pursue the truth. For if they fail to find the killer, their dear friend may dance one last jig at the end of a rope.
Murder at the Masked Ball, the third book in The Kitty Worthington Mysteries, is another frolicking, historical cozy mystery filled with shifty suspects, a cunning villain, and an intrepid heroine sure to win your heart.
Buy the book:
Author Bio:
Magda Alexander is the USA Today bestselling author of several books, including the popular KITTY WORTHINGTON MYSTERIES. She's equally at home writing historical mysteries and sexy contemporary romances. When she's not glued to her laptop writing her next book, Magda loves to bake and try out new recipes in her Instant Pot. A lifelong learner, Magda earned her degree from the University of Maryland and now resides in a Maryland city whose history dates back to colonial times.