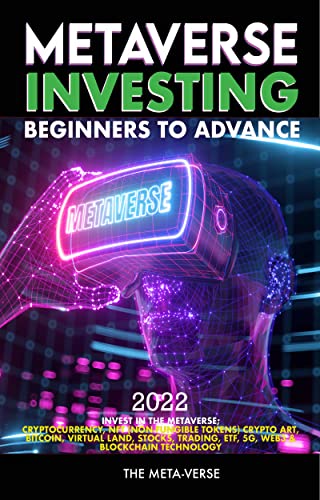 About Metaverse Investing:
You want to invest in the entire metaverse eco-system?
but don't know where to start?
Then keep reading…
With all of the different options available for investing in the metaverse, it can be hard to know where to start. Do you invest in NFT's? Cryptocurrency? In Virtual Land? In Stocks?
Confused how it all works to make wise investment decisions?
Are you feeling eager to invest into the future, but just too many new digital changes? So much new technology… you're perplexed how it all fits together?
This Metaverse Investing Ultimate Guide is here to help. This comprehensive guide will teach you everything you need to know about investing in the metaverse. You'll learn about cryptos, NFTs (non-fungible tokens), Bitcoin, virtual land, stocks, trading, VR and AR, ETFs (exchange-traded funds), and blockchain technology. Plus, you'll get tips on how to maximize your returns and protect your investments.
This Metaverse guide matches each piece of the NFT-Metaverse-Crypto-DeFi jigsaw puzzle together; it includes everything you need to know to get started with Metaverse Investing in 2022:
✓How NFT's work in the Metaverse
✓The stocks about the skyrocket!
✓THE DeFi Projects that will blow your mind!
✓Web3 development that makes sense
✓5G expansions into the future and beyond!
✓HOW THE ABOVE ALL WORKS IN THE METAVERSE
Plus MORE!
The metaverse is a digital world that is growing exponentially. It's a place where you can invest in NFT's, cryptocurrency, virtual land, stocks, and more. And with 5G Internet being rolled out worldwide, it's only going to get bigger!
With the rise of augmented reality and virtual reality, more people are starting to accept this new digital world. In fact, many experts believe that it will soon overtake the current physical world. That's why it's important to start investing in the metaverse now – so you can be ahead of the curve.
With all these possibilities available to you, it's easy to see why this is such an exciting time to be getting into the metaverse. There are endless opportunities for investment and growth. Plus, with DeFi products running smart contracts, you know your transactions will always earn more than a savings account and be safe and secure.
Get this Metaverse 2022 Guidebook If you want to know more how each of the above fit together and make the right choices, the decisions and where the opportunities can be found. Whether you're a small or big investor, an artist or both, then you need to get this complete current comprehensive guide NOW!
Imagine a Future where the Metaverse, NFT's Crypto Art & DeFi and Blockchain technology – become popular as smartphones are now!
Contents:
This Book includes Investing, Trading & Stocks in the following:
✓ Real Estate investing in the Metaverse
✓ Buying cryptocurrencies in the Metaverse
✓ Future business models of the Metaverse
✓ How NFT's & Crypto art work in the Metaverse
✓ Virtual Reality & Augmented Reality
Buy the book:
Author Bio:
The Meta-Verse were the first to publish a series of Metaverse Investing Guides, which quickly reached a wide international audience and multiple best seller status'.
The Meta-Verse is an international network of academics, writers, investors, traders and economists dedicated to independent, unbiased Metaverse financial research. Through our extensive experience, we uncover the best opportunities for individual investors of all experience levels to protect and multiply their income, wealth and investments.
Now with a delicious appetite for more Metaverse related content, we continue to serve our readers with the most accurate, cutting edge, and update knowledge in the Metaverse investing landscape.