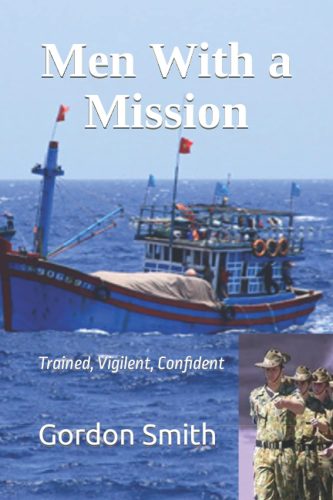 About Men With a Mission by Gordon Smith:
With the introduction of Conscription in the nineteensixties, it was realised that Australia's defence forces would now have access to a wider pool of talented men, other than those that normally volunteer for service.
Major Jack Roberts was tasked by the defence department to form a small group from the National Servicemen to take on some unique tasks.
He chose three young men that had shown signs of being able to work with anyone from different backgrounds or ethnic groups.
These three men were a Christian, a Jew and a Moslem.
After being whisked away from their regiment, as it sailed for Vietnam,
they were taken to an isolated island and underwent their unique training.
When their special training had been completed, they joined the war as intelligence observers.
It did not take them long to discover that some of its allies were not being as ethical as they should be.
In fact, some of them were actually involved in criminal activities.
Because the Australian Government wanted to be sure that no Australians were involved, they immediately directed the group to seek out Corruption, Criminal activity and Human rights violations from all sources (including allied forces).
They developed into a unique force that as well as reporting on corruption, was soon to give assistance to refugees
Their activities came to the attention of the United Nations High Commission for Refugees, along with the Human Rights High Commission.
With the Australian Government's blessing, they were recruited to continue their work, only now as a UN investigating unit to collect evidence of corruption and Human Right violations in Indo-China.
Along the way, their group expanded, and although the original three were only conscripted for two years, they were together until the late nineteen seventies..
Although not a war story, " Men with a Mission" shows the tragedies that come out of war balanced by the loves and hopes of the future.
Buy the book:
Author Bio:
After retirement, I took an interest in researching my family.
This research and discovery gave me knowledge and ideas which brought about the writing of my first book "A family that went to war". After publishing my first book, other books sprang up easily. His second book was "An Australian story" – the saga of an Australian family over two centuries. In this book, I wrote about Australia's early settlement and the events that made Australia and the makings of a family. Amazingly, this book sat on the Amazon best-selling list for the Kindle history of Australia and Oceania for about 10 days, giving me further inspiration as I wrote my third book within a calendar year. This third book "The Ministry Communications Unit" is pure fiction based on a fictitious movie company set up by the Government during World War 2. I based a lot of this story on the locations that surround Caloundra.
I next took on a fictional novel "Lady Ruth Bromfield" an inspirational biography about a Jewish girl, raised by an English, Church of England priest and her progress to becoming an inspirational leading industrialist.
I then wrote "Men with a Mission," an eye-opening account of events in Vietnam, Cambodia, and Laos during the 1969's and 1970s.
I then wrote "The Sensual Retiree" a romance story about a woman whose husband dies shortly after he retires. She makes new friends and discovers that it is possible for a widow in her sixties and seventies to be able to enjoy the company of male suitors.
I then wrote "The Aboriginal Cameleer" a story about a small Australian town during the late 1930s. Although originally aimed at older children, this book has a wider appeal.
My last completed story is Karanja Run. Karanja Run is a station in the Australian outback and tells the story of three Fitzsimons siblings and their adult adventures.
I have now entered a new phase.
I am converting my fictional stories into screenplays for either television mini–series or full-length movies.