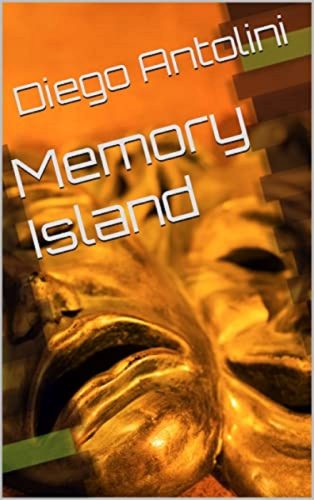 About Memory Island:
David is a young man who finds himself on an island in the middle of the ocean. He doesn't remember how he got there and, through various encounters with people and events, finally realizes the island is in fact a dimensional bubble insulated from Time and Space. Most of what he sees comes directly from his subconscious, and his conscience is eventually led to the understanding of his life purpose: stopping the spreading of the Communitrons before they take all human consciousness. The Communitrons are machines that feed off the minds of their human pilots (Communauts), evolving into sentient Homo Machinas and leaving the humans as empty shells or brainless humanoids.
David manages to leave the island and returns to his time with the aid of Adam, a commonaut, and takes back his role as a futuristic version of Red Cross Official. The world in which David has returned is a huge radioactive wasteland where a few fortified Megalopolis contain the remnants of a technological human society slowly dying.
While on a rescuing mission in the wasteland David meets a special woman, Lucy, who holds the keys to understand the Island, the Communitrons, and the future of human civilization.
Through a mind-triggered, dimensional warp-hole David meets with the scientist who devised the plan who is destroying humanity.
Lucy is the Alpha Mater, the ultimate experiment of the Professor, the first Communitron who evolved taking the mind, the shape and the emotions of a human being. There is only one way to break the seemingly endless spiral of the Communitrons outspread, and that is a sacrifice that David is not willing to accept.
Buy the book:
Author Bio:
Diego Antolini is an entrepreneur, business coach and business consultant, and an independent researcher.
He is the COO of Alliance Trade Network, a USA-based company working in the IT industry since 2012. He holds regular business classes and seminars in Italy since 2015 and China since 2017. Diego is one of the few foreign lecturers enrolled by Alibaba.com platform to hold business lectures in Mainland China
In 2020 he Co-founded X-International Co., Ltd in Shenzhen, China, a trading company operating in mainland China and overseas.
Since 2021, he is CEO of K2Space Corp, a US based company functioning as incubator for Start-ups in the Digital world, developing NFT and Affiliate Marketing Programs as well as disseminating education content in IT and Digital Technologies.
Diego has about 17 years of experience with the Asian markets including China, Japan and South East Asia.
Diego is the co-founder and spokesperson of The X-Plan Group, and independent group of study and research established in 2003.
Memory Island is Diego's first book in English language.