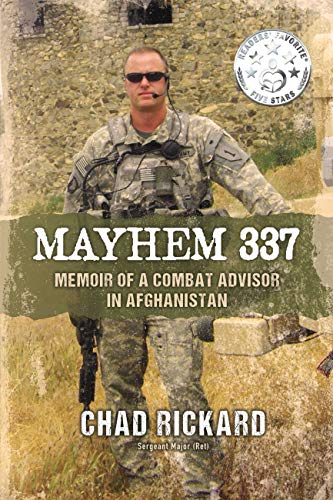 About Mayhem 337: Memoir of a Combat Advisor in Afghanistan:
In Mayhem 337, Rickard powerfully recounts his experiences during a nine month period of intense combat deep in the mountains of Eastern Afghanistan. His graphic account guides you through intense combat from the streets of Khost City, to deadly mountain warfare while based at an austere combat outpost. He vividly describes the sights and sounds of battle as well as the heartbreaking aftermath of fallen comrades. From IED laden roads to air assault missions and hostage standoffs, Rickard's story leaves nothing to the imagination. His riveting memoir brings recognition and honor to the Embedded Transition Team legacy that is but a footnote in U.S. military history.
Buy the book:

Author Bio:
Chad Rickard was born and raised in Central Pennsylvania. While attending college in 1991 he was inspired to join the military at the onset of the first Gulf War, opting to follow a family history of veterans from the American Revolution, both World Wars, and Vietnam. He spent the majority of the first 27 years of his adult life in service to his Nation. As with many Americans his life was profoundly changed following the attacks on 9/11 and he opted to continue to devote his life to the military in lieu of other careers that would have kept him closer to home. Chad proudly served as an infantryman throughout his time in the Army and has been decorated several times for actions in combat including several awards for Valor and a few Purple Hearts for wounds received in combat. Chad is a Life Member of the Military Order of the Purple Heart, the Veteran's of Foreign Wars and the National Infantry Association. He is currently retired and spending time with his wife and children on the Central Coast of California.