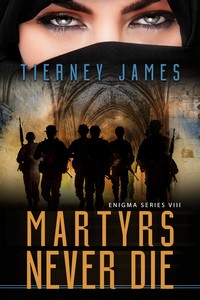 About Martyrs Never Die:
Designated to protect the next King of Saudi Arabia, Tessa Scott never imagined how things could go sideways. For the first time since she joined Enigma, her mettle is tested when an attempt is made on the prince's life. Now a devoted admirer, the prince forces Captain Hunter to confess his true feelings for her before he misses another opportunity. When the captain disappears in Syria, Tessa decides it's her turn to bring him home. With the help of two agents known for their love of mayhem and shoot-first mentality, they concoct a plan of rescue and revenge.
Soraya, a spoiled international rock star finds herself protected by Captain Hunter after both were taken hostage by a group of terrorists. With her ties to the next king of Saudi Arabia, she becomes a pawn with plans of her own. She possesses more power than anyone suspects as she manipulates the terrorists to do her bidding. Beaten and left for dead, Captain Hunter uncovers a plot to use chemical weapons against two enemies, Saudi Arabia and Israel that will destroy any hopes of peace in the Middle East.
Within the walls of a Medieval castle, a dangerous enemy emerges to join the Enigma team and lead them to safety. When Captain Hunter discovers secrets hidden from Tessa, his adversary takes matters into his own hands and may ruin any chance of a new life. Now with the clock ticking and war on the horizon, tough decisions are made to change the course of history.
Will the Enigma team prevent WWIII after several of their comrades have fallen? What are the consequences when the veil of secrecy is revealed to Tessa?
Discover the answers to this fast-paced adventure where world politics and romance fuel the chapters of Martyrs Never Die, book VIII of the Enigma Series.
Buy the book:
Author Bio:
Besides serving as a Solar System Ambassador for NASA's Jet Propulsion Lab, and attending Space Camp for Educators, Tierney served as a Geo-teacher for National Geographic. Her love of travel and cultures took her on adventures throughout Africa, Asia and Europe. From the Great Wall of China to floating the Okavango Delta of Botswana, Tierney weaves her unique experiences into the adventures she loves to write. Living on a Native American reservation and in a mining town, fuels the characters in the Enigma and Dark Side series. She also helps beginning writers in their quest to becoming a published author through her workshops and classes. Family, an adopted dog and gardening fill her life with plenty of laughter to share with others.