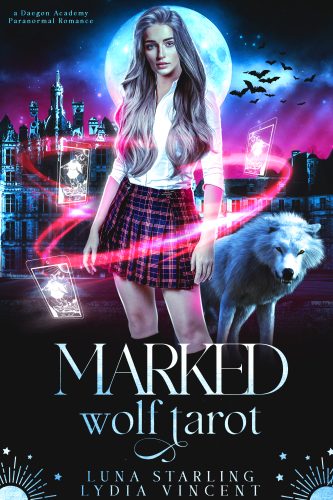 About Marked Wolf Tarot by Luna Starling:
FREE DOWNLOAD!!! FREE BOOK!!!
Nova doesn't live a good life. No family, no magic, and definitely no love.
But that all changes when she meets him and discovers his secret talent behind closed doors.
When their two worlds collide, they discover that no matter what anybody says, they are fated to be together. Their romance is written in the stars, and the primal love they share is sealed the first time he . . . heals her.
Since she was ten, her criminal father brought her into a life of theft. Every job gets them by for a little while, but their new one? It has the potential to bring them a bounty like they've never seen.
The Moon Diamond is said to possess magical powers, but it's guarded by a security system unlike any other. So, Nova might be the only person who can crack it and get her hands on that diamond. After all, there's never been a system she couldn't break into before.
But when the mark of the Tarot's Fool appears on her wrist, things are set into motion that can't be undone.
Sent to an academy where she faces a love triangle between a vampire and a wolf, this steamy, fast-burn romance is enough to make a girl's head spin.
Oh, and that mark?
It's a sign of the next Moon Goddess—which hasn't happened in a hundred years.
Two wolf shifters. A forbidden romance that's meant to be. A vampire and a wolf fighting for her affection.
And she's still supposed to save the world?
There's not enough magic in the world to piece her back together, but her wolf in shining armor is damned sure going to try.
Buy the book:
Author Bio:
Luna Starling is an award-winning and bestselling author. Her debut novel was #1 in 12 categories on Amazon during its initial release, including in the Free Kindle Store and in new release categories. It also earned seven book awards, including the First Place in Humorous from The Bookfest, Finalist in the Book Excellence Awards in Romance, Winner in the Winter Pinnacle Book Awards in Romance, and the First Place in Romance from The Royal Dragonfly Book Awards. Her novel received ten glowing editorial reviews, including five-star reviews, and was recommended by the US Review of Books and featured by Midwest Book Review.
Her second novel was #1 in 6 categories on Amazon in the Free Kindle Store during its initial release.
Her writing has been accepted in an anthology and in multiple magazines in the US and U.K.
Luna has a background in dance, piano, and art. She loves cooking and being outdoors. She's an avid reader of all genres of romance and loves interacting with readers on social media. Born in Honolulu, Hawaii, she now calls Boston home.