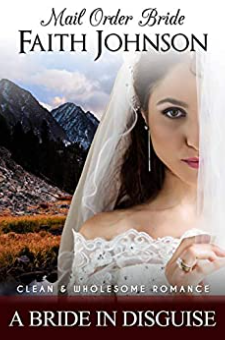 About Mail Order Bride: A Bride In Disguise by Faith Johnson:
This is a Clean Mail Order Bride Historical Western Romance by your favorite best selling author Faith Johnson.
Although Gerard Managhan was just a stable boy, his heart longs for the lovely Elinor Bradbury, the daughter of his employer. But though he knows that love is never to be, Gerard is still devastated when Mr. Bradbury abruptly fires him and Elinor announces she is to wed another. So Gerard heads west, where he is determined to become a man of wealth and culture—a man Elinor could love—even if their love is never to be.
So when Gerard advertises for a mail order bride and Elinor steps off the train, neither is sure how they feel. Left alone after the sudden death of her husband and father, Elinor Bradbury had traveled west to start a new life as Susan Finley. But will that new life extend to be able to love and live with the man who was once her stable hand?
A man who once proclaimed his love for her—which she refused?
Buy the book:

Author Bio:
I love writing beautiful Clean Christian Romantic fiction that Celebrates God, Strong Women who find their Love and Faith. I love being the 'storyteller' in the family and so love clean romance. I believe Love and Romance celebrates and honors God and want to create such inspiring stories that can help my readers touch base both with their romantic side as also with their faith in Christ.
I love writing generally Christian Western Romances with a Mail Order Bride theme. I strive to create stories and characters who are strong women with great morals and have a adventurous spirit that elevates the life's of others and keep my readers on their edge as well!
Hold on tight, the next adventure is right around the corner!