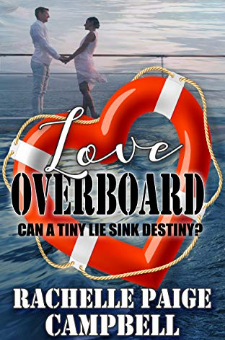 About Love Overboard:
Forced to share a stateroom with her ex-fiancé, Caitlyn fakes amnesia to stay on board her dream Alaskan cruise. Torn over deciding his future, Cruise Director Gregory tumbles into helping her. As they grow closer, unspoken secrets threaten to rip them apart, for good.
Buy the book:
Author Bio:
Rachelle stumbled into the world of romance novels in college; as a way to help speed up her reading to make it through Art History textbooks. After years in the professional world writing very dry grant proposals and auction descriptions, she started writing the contemporary romance stories she wanted to read. Setting her books in some of her favorite destinations was her inspired way to require plenty of research trips every year with her family.
Check out her website, www.rachellepaigecampbell.com. Sign up for her newsletter: eepurl.com/dEjzZz