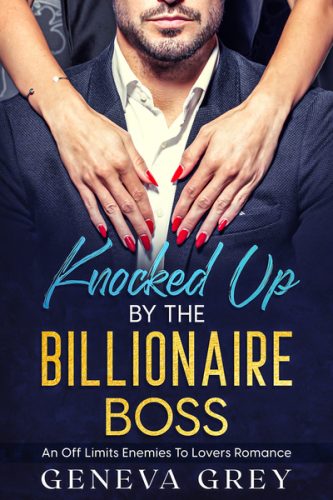 About Knocked Up by the Billionaire Boss:
Tabloids say he's a sexy billionaire playboy and the grandson of a formidable Tech tycoon.
I say he's just like my ex.
Arrogant. Wealthy. Strutting around thinking he's a demigod that can have any woman he wants and toss them aside just as quickly.
But if I want to rescue my family, I have to set aside my personal feelings and work for him.
We have a business relationship – until I'm propelled into the limelight and the public thinks I'm his girlfriend.
Now I have to pretend to be his girlfriend.
We'll both get what we want – he becomes CEO, I rescue my family from debt.
Thrown into luxury and swamped by out-of-this-world sensations, I forget the contract.
I'm slipping; the lines between business and pleasure are blurring, and I almost convince myself what we have is real.
Then my fantasy world crumbles.
The red carpet is pulled right out from under me.
Will I fall into the darkness, or will he catch me and claim me as his – this time, for real?
Buy the book:
Author Bio:
Hi there!
My name is Geneva Grey and this has been a lifelong dream of mine, I'm sure everyone says that!
But it really has. This is a free book that I wrote and I will be releasing my first book on Amazon in a few week. I hope you enjoy it !
And I'd love to have you along for the Journey !
Best wishes,
Geneva