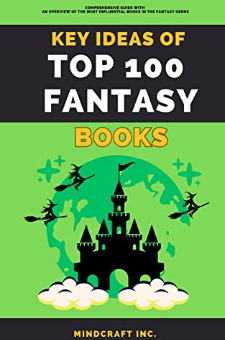 About Key Ideas of Top 100 Fantasy Masterpieces:
Looking to explore the vast world of fantasy literature but not sure where to start? Look no further than "Key Ideas of Top 100 Fantasy Masterpieces." This comprehensive guide provides readers with an overview of the most influential books in the fantasy genre, from classic high fantasy to modern urban fantasy.
With concise summaries of the key ideas and concepts in 100 influential fantasy books, readers can easily determine which books they want to explore further and obtain additional insights and details from prominent authors. The fundamental concepts and ideas of renowned fantasy authors such as J.R.R. Tolkien, George R.R. Martin, and Brandon Sanderson are readily accessible for readers' own benefit.
The book's accessibility is a primary strength. Each chapter provides a summary and highlights the key ideas in distinct phrases, making it easier for readers to comprehend complex concepts. In a world where information is increasing exponentially, such handbooks or summaries are necessary to refresh our memories periodically and maintain a general understanding.
Structured into 100 chapters, each focusing on a significant masterpiece in the fantasy genre, this book delves into different ideas or themes. The contributions from prominent fantasy authors ensure that readers receive a glimpse into the evolution of the fantasy genre.
So, whether you're a die-hard fantasy fan or just starting to explore the genre, "Key Ideas of Top 100 Fantasy Masterpieces" is your perfect guide. Get your copy today and step into the fascinating world of fantasy literature.
Buy the book:
Author Bio:
Mindcraft Inc. is not your typical marketing agency. We are driven by a deeper purpose – a belief in the power of personal development. Our products are not just about selling to customers; they are about helping people unlock their potential.
At Mindcraft Inc., we understand that personal growth is not just a buzzword, but a necessary ingredient for success in today's world. We create carefully crafted products that cater to this philosophy – from books that inspire self-reflection and introspection, to mobile apps that provide personalized tools for development, to websites that offer resources and knowledge to those seeking to improve themselves.