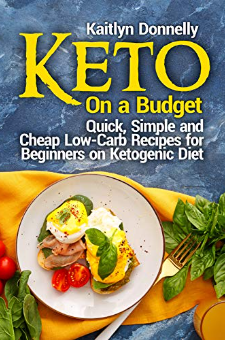 About Keto On a Budget: Quick, Simple and Cheap Low-Carb Recipes for Beginners on Ketogeniс Diet by Kaitlyn Donnelly:
Keto On a Budget – delicious recipe collection that will fill you up without emptying your wallet.
Are you tired of complicated recipes, expensive ingredients, and long shopping lists?
Well, with this Keto On a Budget cookbook, keto has never been easier or more delicious.
With just a few ingredients, plus some basic pantry items, I have put together these convenient ketogenic recipes, which is as kind to your wallet as it is to your waist.
Keeping meals simple helps staying on budget. That doesn't mean eating boring or bland food. How about keto pizza or tacos, pesto chicken salad or grilled cheese sandwich? These dishes also make for great lunch boxes which can save you a lot of money compared to eating out.
Whether you're looking to lose weight or transition to a healthier lifestyle, every recipe in this budget-savvy collection keeps costs low while packing in flavor and nutrition. Featuring 75 tried-and-true recipes to choose from, there's something for every budget and palate―whether you're an experienced Keto pro or brand new to the diet.
Buy the book:

Author Bio:
Kaitlyn Donnelly, is an accomplished chef, cookbook author, food stylist, food consultant, and motivational speaker. She aims to help you gain confidence in the kitchen to cook nourishing meals in your everyday life! As Kaitlyn herself puts it: "Health and happiness go hand in hand, and how can you be happy if you're not eating what you truly desire?"