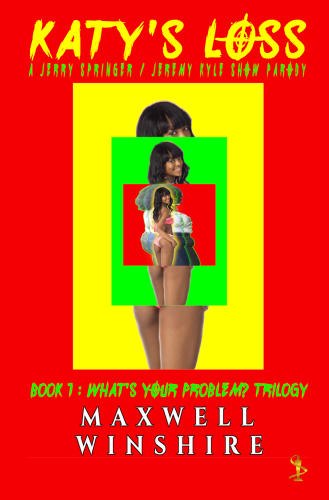 About Katy's Loss; A Jerry Springer Show Parody 2084:
Welcome to the dystopian future of mass entertainment in 2084, where the Jerry Springer and the Jeremy Kyle Show are the inspiration for a counselling show with a difference.
Katy was fine with crocheting and needlepoint, but her past involved stitching of human parts.
Katy is a sassy big bold black woman struggling with weight all her life, from size 6 to size 18, and this new TV show, "What's your Problem?" promises a solution to anyone's problems in 60 mins of counselling to 'guess the secret of your past'. If she wins, she gets her dream aquarium bathtub. If she loses, 'the forfeit is designed for maximum personal humiliation'.
Enter Captain Stanislav Boglosovic from stage-left, a thin elderly former 'translator' wanted for war crimes, struggling in retirement in Brazil. If he wins, he gets his pension; If he loses, he calculates Prison, but he's never lost; whatever it takes to win, there are no limits.
But who will win? And is the prize worth the effort for one, and the forfeit for the other?
Let the tournament commence, and all our hopes and fears begin.
Buy the book:
Author Bio:
I was inspired to write the dystopian future 'What's your problem?' series by trying to imagine the horror of what 'The Jerry Springer Show' would be like in 2084?