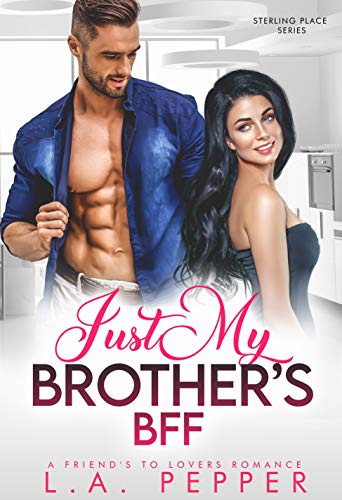 About Just My Brothers BFF:
Isabella was my best friend's sister– forbidden. But someone forgot to tell her the rules.
I was a billionaire, rich, handsome and powerful with women panting after me…but the only woman I wanted was untouchable.
I promised her brother I would NEVER break the Bro code.
She was my neighbour, my PLATONIC best friend and totally off-limits.
When her brother moved back in after his divorce, everything changed.
Our friendship was making her brother suspicious.
I forced myself to move on and find another girl, any girl, or at least make all my friends THINK I had another girl
Suddenly, Isabella jealous– This wasn't platonic at all. We could never work..
I could get my happily ever after, or ruin everything.
Meet the characters in book #1 of The Sterling Place Series! This friend's to lovers romance will keep you turning the pages to see an epic story of fate! No cheating or cliffhangers, and of course, a HEA!
Buy the book:
Author Bio:
Like you, LA loves contemporary romance stories and is an avid reader.
She's had her heartbroken by her true love, yet is still addicted to happily ever after endings!
When LA is not writing about the next bad boy billionaire, she enjoys a glass of Chianti, raclette with her girlfriends, spin classes, and watching the sunrise every morning!
She is a self-proclaimed desperate housewife and lives in a cul-de-sac of excitement, drama, and love stories. Many of her outlines are inspired here.
LA was given her nickname by one of her teenage daughters, and it stuck with friends and family!
Leanne lives in Canada with her husband, and 4 children!
She would love to connect with you!
To request a free copy of the e-book Lovesick, A Billionaire Best Friends Brother Secret Baby Romance, and be in the loop about the next bad boy billionaire romance books,
copy and paste this URL into your browser! https://dl.bookfunnel.com/tl5zurdlke
Also, check out her VIP Facebook group for inspiration & romance recommendations,
https://www.facebook.com/groups/332785307317033/
Between the pages of a Romance Book is a lovely place to be..and where you will find me! xo