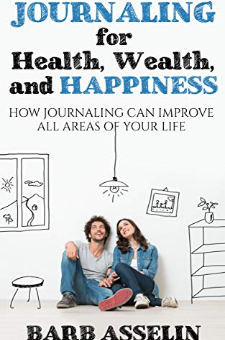 About Journaling for Health, Wealth, and Happiness: How Journaling Can Improve All Areas of Your Life by Barb Asselin:
Want better health? Looking for more wealth? Searching for happiness?If you feel like you are missing out or your life is missing something, or you'd like to start accomplishing more, have you tried journaling? Journaling, believe it or not, can help you bring your dreams, goals, and aspirations to life. Learn how the simple act of journaling can reduce your stress and anxiety levels, create more income, and help you develop into a happier person.Get your copy of Barb Asselin's Journaling for Health, Wealth, and Happiness and start journaling your way to a better, more fulfilling life today.
Buy the book:

Author Bio:
Barb Asselin is a college professor and best-selling author who is published in many different genres including education, law, real estate, writing, online business, golfing, crafting, parenting, internet marketing, entrepreneurship, baby sign language, fitness, office administration, children's fiction and children's non-fiction.She is an avid reader of many different genres and has been passionate about writing since grade school when she wrote her first short story about vampires. This was in the 1980s….way before Twilight!Barb has been creating and administering websites and social media accounts since 2006. She loves to learn and apply the latest traffic techniques and online sales strategies to see what works best. Her daughters call her a "computer geek" and she is OK with that.She loves to teach through her courses, books, and textbooks, and strives to make a connection with each student and reader. Barb lives in Canada with her husband, Mike, and two adorable daughters, Casey and Jamie. They enjoy music, skiing, golfing, running, and mixed martial arts.