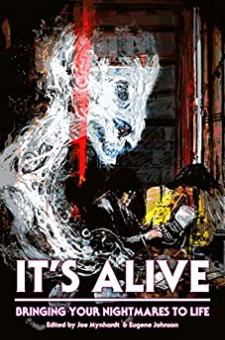 About It's Alive: Bringing Your Nightmares to Life (The Dream Weaver Books on Writing Fiction Book 2):
Bram Stoker Award-winner for Superior Achievement in Non-Fiction!
Nightmares come to life in this comprehensive how-to guide for new and established authors…
Book two in Crystal Lake Publishing's The Dream Weaver series picks up where the Bram Stoker Award-nominated Where Nightmares Come From left off.
It's Alive focuses on learning the craft in order to take your story from concept to completion.
With an introduction by Richard Chizmar and cover art by Luke Spooner. Featuring interior artwork from horror master Clive Barker!
Table of Contents:
Introduction by Richard Chizmar
Confessions of a Professional Day Dreamer by Jonathan Maberry
What is Writing and Why Write Horror by John Skipp
Tribal Layers by Gene O'Neill
Bake That Cake: One Writer's Method by Joe R. Lansdale and Kasey Lansdale
Ah-Ha: Beginning to End with Chuck Palahniuk and Michael Bailey (Discussing the Spark of Creativity)
They Grow in the Shadows: Exploring the Roots of a Horror Story by Todd Keisling
Sell Your Script, Keep Your Soul and Beware of Sheep in Wolves' Clothing by Paul Moore
The Cult of Constraint (or To Outline or Not) by Yvonne Navarro
Zombies, Ghosts and Vampires─Oh My! by Kelli Owen
The Many Faces of Horror: Craft Techniques by Richard Thomas
Giving Meaning to the Macabre by Rachel Autumn Deering
The Horror Writer's Ultimate Toolbox by Tim Waggoner
Sarah Pinborough Interview by Marie O'Regan
Conveying Character by F. Paul Wilson
Sympathetic Characters Taste Better: Creating Empathy in Horror Fiction by Brian Kirk
Virtue & Villainy: The Importance of Character by Kealan Patrick Burke
How to write Descriptions in a story by Mercedes Yardley
"Don't Look Now, There's a Head in That Box!" She Ejaculated Loudly (or Creating Effective Dialogue in Horror Fiction) by Elizabeth Massie
Point of View by Lisa Mannetti
What Came First the Monster or the Plot? In Conversation with Stephen Graham Jones by Vince A. Liaguno
Building Suspense by David Wellington
Conveying Horror by Ramsey Campbell
Unveiling Theme Through Plot: An Analysis of Nathaniel Hawthorne's "The Birthmark" by Stephanie M. Wytovich
Interview with Clive Barker by Tim Chizmar
World Building (Building a terrifying world) by Kevin J. Anderson
Speak Up: The Writer's Voice by Robert Ford
Writing for a Better World by Christopher Golden
Shaping the Ideas: Getting Things from Your Head to the Paper or on Screen. Interview with Steve Niles, Mick Garris, Heather Graham, Mark Savage, and Maria Alexander by Del Howison
On Research by Bev Vincent
Editing Through Fear: Cutting and Stitching Stories by Jessica Marie Baumgartner
Leaping into the Abyss by Greg Chapman
Edit Your Anthology in Your Basement for Fun and Profit! . . . or Not by Tom Monteleone
When It's Their World: Writing for the Themed Anthology by Lisa Morton
Roundtable Interview by John Palisano
The Tale of the Perfect Submissions by Jess Landry
Turning the Next Page: Getting Started with the Business of Writing by James Chambers
Proudly represented by Crystal Lake Publishing—Tales from the Darkest Depths.
Buy the book:
Author Bio:
Michael Bailey is a freelance writer, editor, book designer, and a resident of forever-burning California. He is the recipient of the Bram Stoker Award (and 7-time nominee), Benjamin Franklin Award, over two dozen independent accolades, and a Shirley Jackson Award nominee.
Publications include the composite novels PALINDROME HANNAH and PHOENIX ROSE, two short story and poetry collections, SCALES AND PETALS and INKBLOTS AND BLOOD SPOTS, a limited two-novelette collection called OVERSIGHT and the standalone novelette OUR CHILDREN, OUR TEACHERS.
Edited anthologies include PELLUCID LUNACY, QUALIA NOUS, THE LIBRARY OF THE DEAD, YOU HUMAN, ADAM'S LADDER, four volumes of CHIRAL MAD, and the forthcoming co-edited anthologies PRISMS, and MISCREATIONS: Gods, Monstrosities, and Other Horrors.
He recently finished a memoir called SEVEN MINUTES about surviving one of the most catastrophic wildfires in history (written in twenty-three days), as well as PSYCHOTROPIC DRAGON (a psychological thriller), THE IMPOSSIBLE WEIGHT OF LIFE (a fiction collection), and SEEN IN DISTANT STARS (a dystopian novel). He is currently working on a historical western called HANGTOWN.
When he is not writing, editing, or slowly dying inside, he works as a Developmental Editor for an undisclosed publisher. Find him online at nettirw.com, facebook.com/nettirw, or @nettirw.