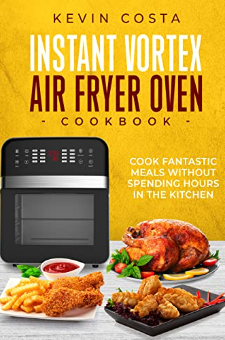 About Instant Vortex Air Fryer Oven Cookbook: Cook fantastic meals without spending hours in the kitchen (The Complete Cookbook series by Kevin Costa 1):
Looking for delicious, quick air fryer recipes? Look no further!
With this easy-to-follow cookbook, you'll be able to whip up mouthwatering meals in no time. Whether you're looking for a simple snack or a hearty main course, the recipes in Instant Vortex Cookbook will satisfy your cravings.
Instant Vortex Cookbook is a complete cookbook that will help you prepare delicious meals in your fantastic air fryer. This book includes:
Recipes for breakfast snacks in a variety of flavors
Several air fryer chicken, beef, and pork recipes
Quick Snacks and Side Dishes
Air fryer recipes perfect for vegetarians
Incredibly easy Pizza Recipes
Healthy and simple seafood recipes
Recipes for rotisserie and roast chicken that will impress the whole family
The Most Desired Air Fryer Recipes for Sweets and Desserts
The Instant Vortex Cookbook is perfect for people who want to enjoy their favorite foods without having to spend too much time in the kitchen. It's also great for those who are looking for healthy alternatives to cooking with oil or butter.
So get ready to enjoy healthy, tasty food with minimal effort!
Buy the book:
Author Bio:
Hello, my name is Kevin. Although I was born in Italy, I grew up in Jacksonville, Florida! I grew up surrounded by delectable southern soul and seafood, clearly influenced by Italian cuisine. My life has always revolved around my family, friends, and food. With Air Fryer Ovens, I'm now taking my cooking to a healthier new level that's easier than before. My cookbooks were written to encourage people to cook healthy meals with some of the greatest tools on the market!