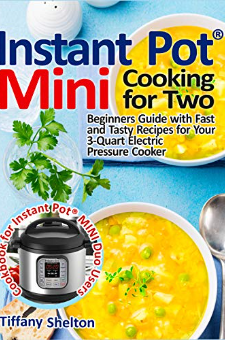 About Instant Pot® Mini Cooking for Two: Beginners Guide with Fast and Tasty Recipes for Your 3-Quart Electric Pressure Cooker: A Cookbook for Instant Pot® MINI Duo Users by Tiffany Shelton:
Instant Pot® Mini Cooking for Two – the only one cookbook you need for perfectly portioned weeknight meals with no leftovers, no waste, and no guesswork.
Instant Pot Mini Cookbook for Two is what you really need if you like tasty meals but aren't ready to spend hours in your kitchen. Here you'll find some of the most nutritious, simple, and healthy Instant Pot Mini recipes that you can easily convert into mouth-watering dishes that are the perfect size for two!
The Instant Pot Mini Cookbook for Two contains:
A DETAILED OVERVIEW of the main Instant Pot Mini functions and features, including the key benefits for busy couples, special Instant Pot Mini options, and settings for cooking different cuisines
USEFUL TIPS AND TRICKS that help you make your Instant Pot Mini your best friend in the kitchen. Chapter 2 includes general advice on how to cook Instant Pot meals for two with your Instant Pot Mini, how to overcome the most common IP problems, and, of course, how to clean this invaluable kitchen device properly
50+ RECIPES FOR TWO inspire you to cook a true masterpiece every time you visit your kitchen. Look into the limitless possibilities of your Instant Pot Mini and enjoy your meals without spending too much time cooking
POPULAR WEEKNIGHT MEALS like Thai Green Curry, Potato Soup with Cheese and Bacon, Shrimp Pasta to all-season favorites like Quinoa Tabbouleh, or Indian Cheesecake for Two.
With this handy guide, you can expand your knowledge about the Instant Pot Mini and make your life much easier and healthier.
Buy the book:
Author Bio:
After leaving a financial analyst career in an international company, Tiffany Shelton devoted herself to cooking and writing cookbooks, even though others around her assured her she had lost her mind.
In her books, Tiffany shares her personal life hacks to building a healthy body, tells the story behind her favorite dishes and how to cook them, and talks about products and their effects on the human body. She gives advice on how to enrich your daily routine with activities and embark on a healthy lifestyle.
Together with her husband, a photographer, and daughter, Tiffany travels and tastes dishes from different countries. Healthy recipes, helpful tips, restaurant reviews, and travel experiences are all things you can read about in her books.