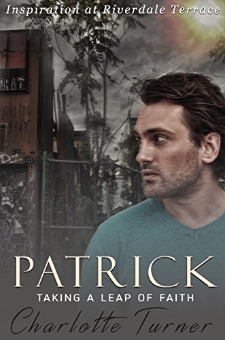 About Inspiration at Riverdale Terrace: Patrick: Taking a Leap of Faith by Charlotte Turner:
A touching story of making choices, inspiration, love, and faith. Patrick will pray to get the answers he needs, being torn between his happiness and saving Riverdale Terrace.
Download FREE with Kindle Unlimited!
Patrick studied architecture in college, but the only job he could find was being a superintendent where he was promised to move up after 90 days on the job. However, that never happened.
Being the superintendent of a building means a couple of things. First, it means nobody likes you. Second, it means everyone wants to kiss up to you when he or she want something fixed. Third, it means you are never, not for one second of the day, off work. That is Patrick's life as the superintendent at Riverdale Terrace. And now, it is especially a crucial time as the building risk of being sold and demolished.
He is stuck in a job that is too demanding and going nowhere. He likes that people there need him even though he is not giving his best effort to be the best at what he does. And, at the same time, he is too scared to give himself permission to move up in his career and seek happiness. It is much simpler just to do it and stand still. The idea of change is paralyzing him, and he does not want to let anyone down, especially Lisa, her only friend in the building.
Patrick is torn between leaving Riverdale Terrace and moving up to a nicer and better paying job in Upper West Side. What will happen if he goes? How will everyone survive without him, especially if the building is sold?
Will God answer his prayers and help him decide what he must do?
Read on your favorite devices such as Kindle, IPhone, IPad, Android cellular phone, tablet, laptop, or computer with Amazon's free reading Kindle App.
To start reading Patrick's story, scroll back up and click the BUY NOW button at the top right side of this page for an immediate download!
Buy the book:
Author Bio:
Charlotte is a young American writer. She writes about everyday life and Christian faith. Inspiration at Riverdale Terrace, Charlotte's first short stories series, is inspired from the work of her Church's pastor where she grew up. She has devoted her life to helping others as a social worker and has found her own way back to God after trying times.