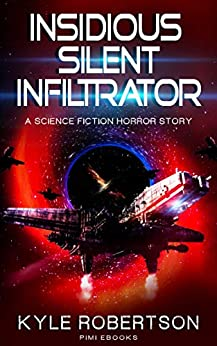 About Insidious Silent Infiltrator: A Science Fiction Horror Story by Kyle Robertson:
How can a doctor aid the intergalactic military when she's stuck in the dark void of space being hunted by an alien apex predator? Devin Devereaux is a quantum doctor testing her alien virus antidote with human subjects on a space mission trial run. There was a navigational mishap and they were thrust into the edge of the live conflict. As they were trying to return, another ship intercepted them. During the altercation, something treacherously nefarious got on-board. Can they navigate the edge of an active battlefield and defeat their foe to return home? Purchase this science fiction horror novel to find out if they can survive the relentless dark abyss of space and the destructive hunter determined to destroy them in Insidious Silent Infiltrator: A science Fiction Horror Story.
Buy the book:

Author Bio:
Kyle Robertson grew up an only child. His immediate family moved from Baton Rouge Louisiana to Milwaukee when he was 3. Without siblings, he realized very early in life he needed his imagination in order to make it through this life.
After graduating high school, ne did a stint in the military. After that, he began to learn the art of salesmanship. He was always an entertainment buff,
He sold many things from replacement windows to luxury vehicles to home entertainment install and all types of home electronics. He finally taught his trainees the art of selling home maintenance equipment.
He had a mishap and lost most of his sight and couldn't sell anymore. In sales your normal day lasted 16 hours, so sitting, watching television all day, and collecting his disability check depressed him. He began to write to alleviate the boredom. That started in 2007.
This is his new career now. e writes fiction books with relevant subtext in them; He also has a motto he lives by. Your dreams don't have an expiration date.
You can join my Facebook page to be on my ARC team and get new updates of future content here: https://www.facebook.com/groups/1914197243910389724391038