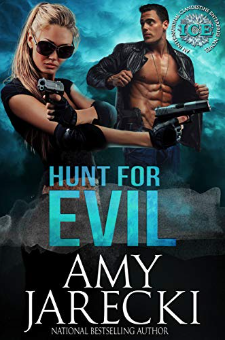 About Hunt for Evil: An International Clandestine Enterprise Novel (ICE Book 1) by Amy Jarecki:
Meeting her will change his life…And she has no idea how much she needs the SEAL to change hers.
When Navy SEAL Commander Logan Rodgers winds up on a botched mission in the Gulf of Oman, his quick action in saving MI6 asset, Olivia Hamilton, brings him to the attention of the international espionage arena.
Recruited by the mysterious and elite International Clandestine Enterprise (ICE), Logan faces Olivia again, but this time they're on the same team. Sparks fly as the two compete in a clash between skill and keen intellect, until a French girl is kidnapped by a suspected terrorist.
Posing a married couple, steam erupts between the pair while Logan and Olivia dive deeper into an ISIS kidnapping ring. But when Olivia becomes the kidnapper's next victim, she enters a madman's hell. And as Logan races against time to save her, one thing ravages his soul. If he fails, the woman he loves will be lost to him forever.
Buy the book:
Author Bio:
Multi-Award winning and Amazon Bestselling author, Amy Jarecki likes to grab life, latch on and reach for the stars. She's married to a mountain-biking pharmacist and has put four kids through college. She studies karate, ballet, yoga, and often you'll find her hiking Utah's Santa Clara Hills. Reinventing herself a number of times, Amy sang and danced with the Follies, was a ballet dancer, a plant manager, and an accountant for Arnott's Biscuits in Australia. After earning her MBA from Heroit-Watt University in Scotland, she dove into the world of historical romance and hasn't returned. Become a part of her world and learn more about Amy's books on amyjarecki.com, find her on Facebook and Twitter as @amyjarecki.