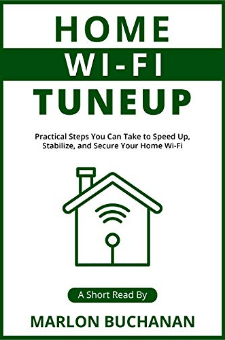 About Home Wi-Fi Tuneup: Practical Steps You Can Take to Speed Up, Stabilize, and Secure Your Home Wi-Fi:
Does your home Wi-Fi make you want to pull out your hair? Are you tired of having Wi-Fi dead spots in your home or of having to reboot your router when your Wi-Fi slows to a crawl? Would you like your Wi-Fi to be fast, stable, and secure?
After reading Home Wi-Fi Tuneup you'll know:
How to diagnose and fix common problems with your Wi-Fi
How to speed up your Wi-Fi
How to make sure you have strong Wi-Fi throughout your home
How to make sure your Wi-Fi is secure from hackers
Having fast, stable, and secure Wi-Fi at home is more important now than ever. After reading this book, you'll be equipped with all the tools and information you need to have the trouble-free, fast, and secure Wi-Fi you need.
About The Author
Marlon Buchanan has worked in the IT field for over twenty-five years as a software developer, a college instructor, and an IT Director. In his free time, he can be found researching new smart home projects, playing sports with his children, and writing articles for his blog, HomeTechHacker.com. He holds a bachelor's degree in computer engineering and master's degrees in software engineering and business administration.
Testimonials & Reviews
"HomeTechHacker shared these great tips for diagnosing and fixing some extremely common #Wifi issues. Even ones that I've had to deal with myself. I'm a techy nerd, and these suggestions are on point."
– Whisky, HomeTechHacker.com blog reader
Buy the book:
Author Bio:
Best-selling author Marlon Buchanan is an IT Director by day and a home technology hacker (the good kind) by night. He has over 25 years of combined experience as an IT director, software developer, systems analyst, college instructor, and smart home consultant. He has a bachelor's in computer science and engineering from MIT and master's degrees in business administration and software engineering from Seattle University.
He has been automating things around his house since he was a kid. Now, his wife and kids get to enjoy the fruits of his smart home exploits. He is best known for his smart home, home networking, and cybersecurity articles on his blog HomeTechHacker.com and his books, The Smart Home Manual and The Home Network Manual.
Tweets by HomeTechHacker
https://HomeTechHacker.com