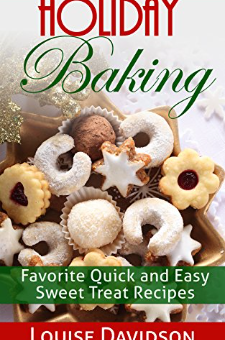 About Holiday Baking: Favorite Quick and Easy Sweet Treat Recipes (Holiday Baking Christmas Dessert Cookbooks Book 1):
Treat your Family and Friends with our Kitchen-Tested Quick and Easy Sweets Recipes for the Holidays!
Download FREE with Kindle Unlimited!
Christmas is a magical time of the year when families and friends get together to celebrate. Being prepared with lots of sweet treats to share with your loved ones is always an important part of any celebration.
If your family is anything like mine, sweet treats like cookies, bars, fudge, cupcakes disappear before you even get a chance to pass it around. The best memories are made when we gather a few days before Christmas and have a day full of baking fun and laughter. We collect all of our cookie cutters, baking sheets and pans, our colorful decoration sprinkles, the ingredients and spices, and bake your heart out!
It's with this in mind that this cookbook was put together. Inside you will find our family favorite sweet treats recipes including:
Bright and cheerful cookies
Luscious bars and squares
Gorgeous celebratory cupcakes and mini cakes
A cake pop the kids will love to help you make
Easy and fun to make candies
Fudge recipes that are so easy to make
Let get baking!
Read on your favorite devices such as Kindle, IPhone, IPad, Android cellular phone, tablet, laptop, or computer with Amazon's free reading Kindle App.
Scroll back up and click the BUY NOW button at the top right side of this page for an immediate download!
Buy the book:
Author Bio:
Louise Davidson is an avid cook who likes simple flavors and easy-to-make meals. She lives in Tennessee with her husband, her three grown children, her two dogs, and the family's cat Whiskers. She loves the outdoor and has mastered the art of camp cooking on open fires and barbecue grills.
In colder months, she loves to whip up some slow cooker meals, and uses her favorite cooking tools in her kitchen, the cast iron pans, and Dutch oven. She also is very busy preparing Christmas treats for her extended family and friends. She gets busy baking for the holiday season sometimes as early as October. Her recipes are cherished by everyone who has tasted her food and holiday treats.