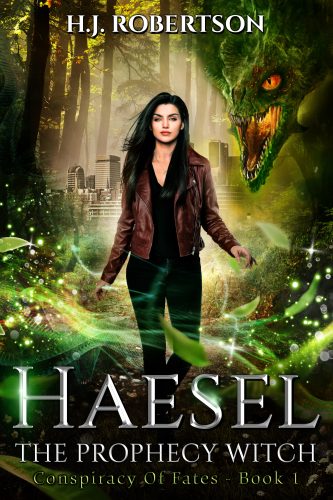 About Haesel – The Prophecy Witch:
When you look deep into the eye of a dragon…You feel it.
A crawling, prickling sensation that seeps through your cells as it searches your thoughts, intentions and secrets, until your very soul is laid bare.
As a 40- something mum of two, my quiet life as a herbalist has now long gone.
Getting pulled through a portal into a magical realm and proclaimed a witch of some ancient prophecy, took care of that.
Ravaging the Earth is a man-made virus, devised with a sinister agenda. Malicen, the power-crazed scientist plans to use it to rule a new world, but can't without my allegiance.
To thwart his evil scheme I will need Nithele's help. But dragons don't like to interfere. Can I convince the powerful protector of the realm to help me?
Emotions and intuitions are awakened by my newly discovered powers, but there are rules when you're a witch. If I stray off my destined path it may alter the course for others and throw a different fate line into the mix, with disastrous results.
Will I succeed in saving the one thing that is most precious to us all?
Join Haesel as she races against time with a cast of dragons, magical creatures, hypnotic fae and evil intentions in this Urban Fantasy/Sci-Fi adventure.
Buy the book:
Author Bio:
My love of books began when I first learned to read and has continued ever since, but my imagination was truly captured by dragons, faeries and all things magical and mythical. I was the one hiding under the covers with a torch so my mum didn't see the light on, and sat in the classroom reading a book in the lunch breaks at school.
Books to me are pure magic, what else can transport you from this world into infinite others? Not even dreams can compete with that.
I write urban fantasy/sci-fi novels that you can truly lose yourself in.