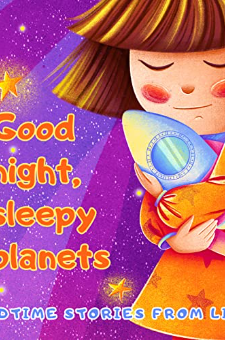 About Good night, sleepy planets | Bedtime stories from Lisa: Bedtime story for children 4-8 years old:
This is a magical bedtime story about a little girl named Lisa and our solar system.
Gorgeous illustrations and a captivating rhyming story will help your child relax and fall asleep. This book is suitable for children 4-8 years old, as well as older ones for independent reading.
All planets have real characteristics. This book is a great way to introduce your child to the solar system and reads fun and relaxing bedtime story.
Sweet Dreams!
Buy the book:
Author Bio:
Hello everyone! I'm happy, I'm really glad you're here, maybe by accident, but still got to the page with my book. I'm an author, just an author. And I love writing and publishing children's books. I hope you enjoy reading them, оtherwise, I should be doing something else… Maybe walking dogs or growing cabbage. You can offer your options)) I don't always succeed, but your comments, which may be very strict, make me better. Thank you for your attention to my humble self and see you on the pages of my books!