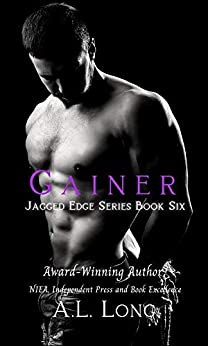 About Gainer: Jagged Edge Series Book Six: Romance Suspense (Alpha-Male Romance Suspense, Military 6) by A.L. Long:
Award-Winning Author of the Shattered Innocence TrilogyWhen a person is at the end of their rope, the only thing left to do is survive. That was exactly what Emma Atwood had been doing for most of her life. Finally getting a break, she gets hired as a maid at a ritzy hotel, but even that wasn't enough. Tired of living the life she was handed, she does the one thing that she soon regrets. Greed soon turns into tragedy when her mistake begins taking lives. Reminded of his past memories, the only thing that Lou Gainer wanted to do was clear his mind. His thoughts get the best of him, and he ends up running into a mysterious woman. Captivated by her beauty, he does everything he can to get close to Emma Atwood. Opportunity knocks when Jagged Edge is hired as additional security at the hotel she works at. Pieces fall into place when Lou finally learns the truth about Emma and what she has been hiding.Will his love for her be strong enough to hide her secrets, or will his need, to tell the truth prevail? Will his need to have her win, or will he lose her forever?This book contains adult content and is intended for mature audiences ( 18+).More of A.L. Long's BooksShattered Innocence Trilogy:Next to NeverNext to AlwaysNext to ForeverJagged Edge Series:HewittCopHawkSlyAshGainerChavezRyan
Buy the book:

Author Bio:
Award-winning Author of the Independent Press Award and NYC Big Book Award. A.L. Long is also the recipient of the National Indie Excellence Award.
Some would call me a little naughty, but I see myself as a writer of spicy thoughts. Being a romance writer is something that I never imagined I would be doing. There is nothing more rewarding than to put your thoughts down in words and share them. I began writing in 2013 and have enjoyed every minute. When I first started writing, I wasn't sure what I would write. It didn't take me long to realize that romance would be my niche. I believe that every life deserves a little bit of romance; a little spice doesn't hurt either. When I am not writing, I enjoy the company of good friends and relaxing with a delicious glass of red wine.
Visit me at www.allongbooks.com for all of my new releases and book signing events.