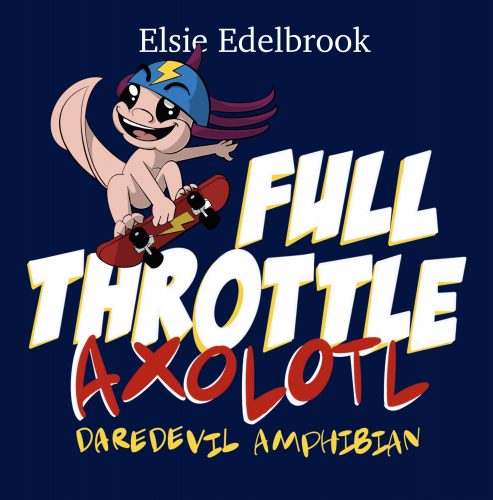 About Full Throttle Axolotl: Daredevil Amphibian by Elsie Edelbrook:
Ace the axolotl has everything it takes to be a daredevil. A super pseudo name, killer catchphrase and tricks that thrill and amaze. Despite his mega-gigantic secret, he is downright determined to emblazon his name in daredevil history as one of the greats. But when a minuscule misunderstanding spells colossal catastrophe for Ace, will he go full throttle and pull off the unthinkable? Will this daredevil amphibian be able to look straight into the face of danger and laugh? Find out in this hilarious tale of derring-do.
Buy the book:

Author Bio:
Introducing Elsie; silly storyteller, creator of three quirky kids and a crazy amount of chaos, proud Hufflepuff; lover of soft sweaters, good books, and autumn in New England; who feels strong and determined with her family behind her, weak at the sight of warm chocolate chip cookies, and full of giggles; who needs a tea to start her day, loyal friends, and to bask in the sunlight whenever possible. Lifelong dancer turned instructor to many little bodies with a love of dance in their hearts. This is Elsie Edelbrook.