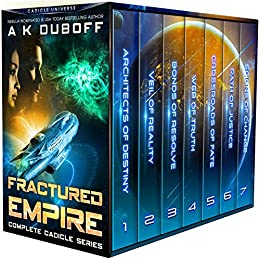 About Fractured Empire: Complete Cadicle Series Boxset by A.K. DuBoff:
The Taran Empire is fighting a secret interdimensional war… and they're losing.
When High Dynasty heir Wil Sietinen comes face-to-face with the Bakzen, a mysterious race skilled in advanced telekinesis, he's forced to confront his destiny. A secret war is being waged within a hidden dimensional rift, and his unique gifts can help win the fight.
As the dire nature of the conflict and the truth about his own abilities unfolds, Wil realizes he's at the center of a galactic conspiracy. And enemies are not who they seem.
With the future of the entire Taran Empire hanging in the balance, Wil holds the key to victory—but saving his people may come at the ultimate price.
A timeless space opera epic, the Cadicle series spans three generations as one family challenges destiny to win a war and lead a revolution that will change the course of an empire. This series is an entry point into the award-winning, expansive Cadicle Universe.
Buy the book:

Author Bio:
Award-winning and USA Today bestselling author A.K. (Amy) DuBoff has always loved science fiction in all forms, including books, movies, shows, and games. If it involves outer space, even better! She is most known for her acclaimed Cadicle Universe space opera books, as well as the Nebula-nominated Dark Stars trilogy. As a full-time author, she can frequently be found traveling the world while writing timeless science fiction, science-fantasy, and comedic sci-fi. When she's not writing, she enjoys wine tasting, binge-watching TV series, and playing epic strategy board games. Learn more at www.amyduboff.com.