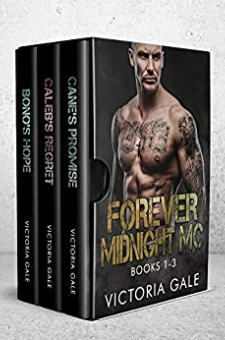 About Forever Midnight MC Collection: Books 1-3 (Forever Midnight MC Book Series):
Grab all three books in the Forever Midnight MC series in one collection. Each story stands alone and has a HEA.
Cane's Promise
Thea
Life was good until my dad died and my Mom remarried. Her new husband was no saint, but compared to his son, he might as well be.
Daniel tortured me for years, and every time I ran away, he dragged me right back.
This time would be different. This time I'd made a plan…
Daniel planned better.
The only thing neither of us counted on was Cane Landon.
He was as sexy as sin and as hard as nails, and he claimed me as his …
… promised to protect me.
Cane
Everything I do is for the Forever Midnight Motorcycle Club; my brothers, my family.
I'd never questioned my loyalty until Thea walked into my life.
She's mine and I'll do anything to keep her safe.
When my brother, the president of Forever Midnight MC, told me to hand her back to the family that tormented her dreams. I told him where he could shove that idea.
Now, the only family that matters is her…
I'll keep my promise and keep her safe.
No matter the cost.
Caleb's Regret
Caleb
I would have done anything for Amber; she meant the world to me.
But that world was full of fighting and petty arguments.
When she left, I'd raged and tried to find her.
When I failed, I swore off women forever and focused on my brothers in the Forever Midnight Motorcycle Club.
She'd gone for good, or so I thought…
Amber
Caleb is the love of my life. I've never gotten over him.
But I had to leave.
I have a child…
Every fiber of my being prays that it's Caleb's, but how could I look him in the face and tell him I'm not sure?
How could I tell him the baby I love may have been fathered by my attacker?
One thing's for certain, I'm back, and I'm bringing a truck load of trouble with me.
Bono's Hope
Bono
Losing my parents and growing up in the foster system was hard.
Harder still was losing my fiancé.
When the love of life my died, I joined the military. But as a combat medic in Afghanistan, all I found was more death.
Now, I dedicate my life to my brothers in Forever Midnight MC.
They're all I want and all I need.
At least, I thought so…
Hope
I wanted to do the right thing, to keep myself and those I love safe.
Now, after ten years in the witness protection program, the man I put behind bars is free, and he's found me.
Bono is the only person I trust.
But how can I ask him for help when he thinks I'm dead?
How can I ask him for help when I turned my back on everything we had?
Grab this collection of heroic male deliciousness and panty-melting sexiness now!
*
WARNING: Due to mature content and themes, this series is intended for readers 18 and older. It contains scenes that may be disturbing to some readers, and includes drug use, violence, and frequent 'F-bombs'.
Buy the book:
Author Bio:
Delve into a romance with determined, resourceful women and strong, fearless men.
Sign up for Victoria's newsletter and keep up to date with new releases and promotions: https://galeromance.com/Join-my-mailing-list/
Like her on Facebook: https://www.facebook.com/authorvictoriagale/