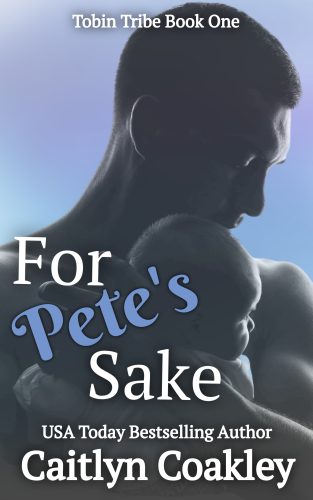 About For Pete's Sake:
Ethan Webb, Philadelphia's most notorious and ruthless personal injury attorney, cares about exactly three things: his sister, Megan, his newborn nephew, Pete, and his law practice. When Megan's post-partum depression sends Pete into foster care, Ethan will do anything to gain custody. Even marry a stranger he'd planned to crush in court.
Newly widowed Stephanie Kerrigan also cares about three things: saving her company, winning the lawsuit Ethan Webb has filed against her, and having a baby of her own. Suddenly, Ethan is the only way to accomplish all three.
Can they make it work for Pete's sake?
Buy the book:
Author Bio:
Caitlyn Coakley is the USA Today Bestselling author of eight books. The ultimate introvert, she spends most of her time cuddled up with her two rescue cats reading, writing, and making counted cross stitch bookmarks while her grumpy husband watches sports. She tries to garden, but usually forgets to water, so everything fries under the relentless Arizona sun. Her number one New Year's Resolution is to shower, get dressed, and leave the house every day. Resolution number two? To figure out how to use her Facebook fan page. To keep track of her progress, or lack of progress, visit her Facebook page.