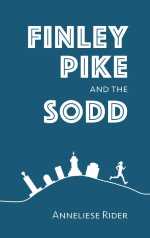 About Finley Pike and the SODD:
Finley is always in detention, but it's not only because she hates school. Behind her bad attitude is a lonely girl with a hard home life, looking for something she can control. When Dale invites her to go exploring, they stumble onto a band of robbers, and Finley gets an idea. If they can figure out how to turn them in, maybe her mom will notice her!
But when Finley's scheme leads to a graveyard at midnight, she wonders if she'll make it out alive. Even worse—will her mom even realize she's gone?
The Kindle eBook is free from May 19, 2022 to May 23, 2022.
Buy the book:
Author Bio:
Anneliese Rider loves being outside, biking, swimming, baking, and exploring central Michigan with her family. She's always on the lookout for good donuts and the next story, and hoping she finds them at the same time.