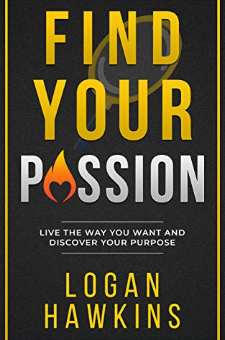 About Find Your Passion: Live the Way you Want and Discover Your Purpose (Quality Life Series Book 1) by Logan Hawkins:
See your purpose. Share your passion. Claim your full potential.
With the path to true contentment hidden in plain sight, many spend their lives alone—as strangers to themselves. The fact is this: morality, mental fortitude, and hard work will never bring about inner-harmony . . . until we've found our true calling. But knowing one's goal is not enough. Progression requires great passion as well. To win, we both must know the game and master its mechanics.
Feel you're meant for more? Reclaim autonomy—and thrive.
This volume shares the secrets to success, delivering a powerful treatise on individualism, prioritization, and an inspired existence. Step by step, you'll come to learn:
How to determine your heart's desire
How to avoid life's greatest pitfalls
How to live a passionate life
How to love another completely
How to hold on to your happiness
No one can tell you who you are, or even how you ought to live. Instead, this work will serve to help you find those answers on your own. The path to true contentment does exist. Embark today.
Buy the book:
Author Bio:
Logan Hawkins is a successful entrepreneur with a decade of experience working with SMEs. He currently lives in Chicago … The 7-Day Self Discipline Blueprint is his debut book.
He is a firm believer in the possibility of achieving anything and everything as long as a special ingredient is present – and that is drive.
You can follow Logan here:
Amazon: https://amzn.to/3iu2rIG
Goodreads: https://bit.ly/3grsJcA
Bookbub: https://bit.ly/3iuMaTP
For a free reader magnet, please click here:
https://bit.ly/3426sPd