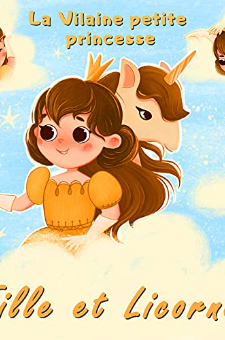 About Fille et Licorne – La Vilaine petite princesse: Livre de licorne pour les filles de 4 à 8 ans avec images (French Edition):
Une histoire pour toutes les chipies !
Sa Majesté a beau être toute petite, elle n'en reste pas moins une vraie terreur. En 12 quatrains, ce conte poétique vous emmène dans son univers fantastique, où les petites filles font des bêtises, et où les licornes sont là pour leur montrer comment les réparer. Une histoire pour mener petits et moins petits sur le chemin de la bienveillance.
Aujourd'hui, cette chipie de princesse a décidé de faire des méchancetés. Mais une licorne n'est pas de cet avis, et va lui montrer ce qu'engendre ses bêtises, et comment faire pour se rattraper. Une fable imprégnée de tendresse et d'attention, au cœur d'un univers qui saura se faire le complice de votre enfant, et lui apprendre à semer le bien autour de lui.
Buy the book:
Author Bio:
Hello! My name is Alex Fabler. I have been writing children's books since 2020. At the moment, more than 20 of my books have been published. The books are different. There are bedtime stories. There are educational stories. There are books on environmental protection. All books are written for children 4-8 years old.
I am interested in all genres and styles: fantasy, science fiction, humor, poetry, realism. In my books, I try to combine instructive stories with fairy-tale characters. I like to surprise and teach children at the same time. Talk about kindness, love of neighbor, patience, and courage. Through such heroes as: Unicorns, Mermaids, Dragons, Knights, Genies, Giants – I try to convey to the child simple concepts of good and evil, courage and cowardice, obstinacy and obedience.
I am very glad that at the moment my fairy tales have been translated from English into Spanish, French, German and Italian. I sincerely hope that you and your children will enjoy these stories.
Sincerely, Alex Fabler