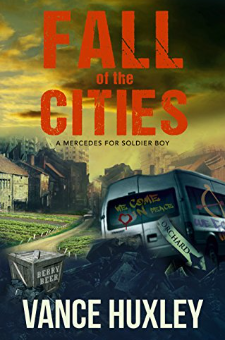 About Fall of the Cities: A Mercedes for Soldier Boy:
Despite the global genocide and destruction, the Cabal are still trying to salvage their master plan for mankind. In the UK, that involves wiping out the last of the population trapped in the cities, those who don't fit into the new future.
Inside the ruined cities, both peaceful and gang-dominated enclaves are beginning to realize time is running out. For some cities, it is already too late, but even a few dedicated survivors can be a serious setback for the Cabal. Elsewhere, the more violent use the reprieve to grow stronger, while possible allies for Orchard Close combine to survive. The UK Cabal adapt again and again, recruiting mercenary armor while still trying to control the in-fighting inside the enclosures.
Despite all the death and destruction there is hope, and possibly love. Soldier Boy meets a woman who really gets under his skin – a she's a cold-blooded assassin for a neighboring gang. He can't be sure if she's setting him up for the kill, or trying to get into his pants, but either way he can't ignore her.
His friends are worried, his enemies wonder if she is a weakness to exploit, while to the north the Bloods are recruiting because they owe Orchard Close some payback. In one terrible night of treachery, violence and tragic loss, plots stretching back three years come to fruition. As bullets fly and gangster machetes meet the Riot Squad, Harold's questions are answered, but is it too late?
Buy the book:
Author Bio:
Vance Huxley lives out in the countryside in Lincolnshire, England. He has spent a busy life working in many different fields – including the building and rail industries, as a workshop manager, trouble-shooter for an engineering firm, accountancy, cafe proprietor, and graphic artist. He also spent time in other jobs, and is proud of never being dismissed, and only once made redundant.
Eventually he found his Noeline, but unfortunately she died much too young. To help with the aftermath, Vance tried writing though without any real structure. As an editor and beta readers explained the difference between words and books, he tried again.
Now he tries to type as often as possible in spite of the assistance of his cats, since his legs no longer work well enough to allow anything more strenuous. An avid reader of sci-fi, fantasy and adventure novels, his writing tends towards those genres.