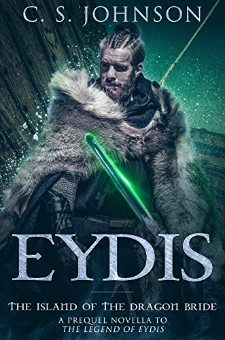 About Eydis: The Island of the Dragon Bride (The Legend of Eydis):
The clouds in front of him began to shade over, their airy inscriptions spelling out a message of welcome—or maybe a warning—as the promise of land became clear.
Eydis.
As an accomplished Viking warrior, Sterlig Kyvansson always found a way to get what he wanted—until he wanted Arja Freydottir. After Sterlig is denied the right to marry Arja, he is determined to do anything in his power to claim her as his own—even if it means slaying the dragon that guards the cursed island of Eydis.
With his brother's sword at his side and Arja's hand on the line, Sterlig sets out for Eydis with his friends. When they arrive, they quickly find that the rumors of Eydis are all true, including the irresistible beauty of the Princess of Eydis, Brynja the Bride. With her blessing, Sterlig heads out into battle with the dragon.
But near that battle's end, Sterlig discovers the terrifying secret behind Eydis' power. Is it already too late, or can his discovery still make a difference?
With danger, friendship, and a surprising twist, Eydis: The Island of the Dragon Bride is a Viking fantasy adventure from award-winning, genre-hopping author C. S. Johnshon.
Buy the book:
Author Bio:
C. S. Johnson is the award-winning, genre-hopping author of several novels, including young adult sci-fi and fantasy adventures such as the Starlight Chronicles series, the Once Upon a Princess saga, and the Divine Space Pirates trilogy. With a gift for sarcasm and an apologetic heart, she currently lives in Atlanta with her family. Find out more at http://www.csjohnson.me.