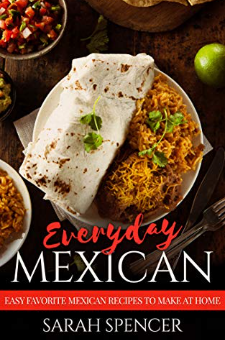 About Everyday Mexican: Easy Favorite Mexican Recipes to Make at Home by Sarah Spencer:
Bring the authentic flavors of Mexico into your kitchen! Prepare a Mexican meal your friends and family will love and ask you to make again and again!
Mexico's rich food history has been acknowledged across a world that now celebrates traditional Mexican culinary practices. Flavor-rich Mexican cuisine is appreciated worldwide for its clever use of chilies, peppers, and beans to create unique textures and flavors.
Mexican foods bring real charm to any celebration, casual party, formal get-together or classic weekend dinner. Modern Mexican cuisine represents an amazing combination of culinary craft from Spain and Mexico. The people of Mexico have great passion for their food; they are proud of the culinary customs that guarantee a perfect balance of flavors in all their meals.
Mexican foods are full of exotic flavors resulting from their unique preparation techniques. They are usually multilayered—think of tacos, burritos, tortillas, and carnitas—and this means that it takes longer to prepare and arrange the ingredients for some recipes. But in the end, it is well worth your effort to get a perfectly balanced meal with unique flavors.
No matter how many times you enjoy Mexican recipes, you will always want to have them again and again. Not everyone is fortunate enough to live in Mexico and enjoy its world-class cuisine firsthand, but you can make it easily in the comfort of your home. Mexican food may seem challenging and complex to prepare at first, but the fact is that once you start making it, achieving an authentic taste will soon become almost effortless.
This cookbook delivers a handpicked collection of flavorful Mexican recipes that are easy to prepare at home. Some of these recipes are a little rich—not necessarily the best thing to eat when you're on a diet—but they are all full of amazing flavors. You'll get to explore a wide range of Mexican dishes for your various cooking needs, be it breakfast, poultry, meat, seafood, fish, vegetarian mains or desserts.
Inside, you'll find over 90 classic Mexican recipes including:
•Sauces, dressings and seasonings such as the Fajita Seasoning Mix and the Salsa Verde
•Breakfast dishes like the Gordita Breakfast Wraps and the Egg Bean Vera Cruz
•Recomforting soups recipes like the Wholesome poultry recipes such as the Chicken Verde Casserole and the Tinga De Pollo
•Bountiful beef recipes like the Birria de Res, the Beef Burrito, and the Taco de Bistec
•Satisfying pork and lamb recipes like the Pork Empanadas from Scratch, the Lamb Chipotle Tortilla, the Taco Pork Chops, and the Pork Carnitas
•Delightful fish and seafood recipes such as the Shrimp Tequilla Tacos, the Veracruz Sea Bass, Seafood Enchiladas, and the Spicy Fish Taco Bowls
•Amazing vegetarian mains and sides such as the Chilli Renellos, the Refried Beans, and the Quick and Easy Frijoles Charros
•Plenty of desserts and drink recipes to make awesome desserts and drinks such as the Horchata, the Tres Leche Cake, the Sopapillas, and the Cheesecake Taquitos
All recipes come with a detailed list of ingredients, cooking and preparation times, number of servings, and easy to follow step-by-step instructions.
Read on your favorite devices such as Kindle, iPhone, iPad, Android cellular phone, tablet, laptop, or computer with Amazon's free reading Kindle App.
Let's get started, so you can experience and cherish amazing Mexican food every day! Scroll back up and click the BUY NOW button at the top right side of this page for an immediate download!
Buy the book:
Author Bio:
Sarah Spencer, who lives in Canada with her husband and two children, describes herself as an avid foodie who prefers watching the Food Network over a hockey game or NCIS! She is a passionate cook who dedicates all her time between creating new recipes, writing cookbooks, and her family, though not necessarily in that order!