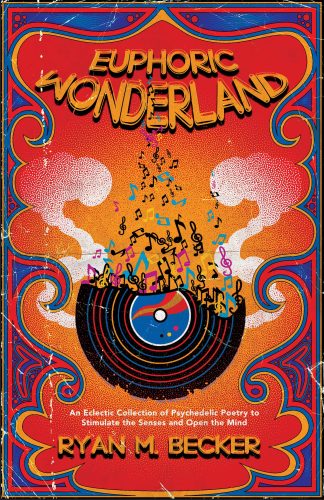 About Euphoric Wonderland: An Eclectic Collection of Psychedelic Poetry to Stimulate the Senses and Open the Mind:
Open your heart to a compilation of musical poetry and surreal expression drawn from madness and mania.
Artfully weaving a rhythmic tapestry of touching poetry that flows like music, this deeply personal memoir invites readers on a fascinating deep dive into the author's raw and heartfelt world of living rhythms and authentic feelings. As a deft amalgamation of spoken word, truth to power, clever wordplay, and thoughtful reflections, Euphoric Wonderland illuminates a mad spark of creativity as it draws uplifting inspiration from even the darkest of times.
Stimulate your imagination and open your mind to a psychedelic and enigmatic assemblage that ranges from tributes to The Beatles, Pink Floyd, head-banging heavy metal, to vinyl records, slam-poetry, superheroes, mind-altering possibilities, and the Jekyll and Hyde living inside each of us. Euphoric Wonderland blossoms out of madness, grappling with psychological issues through humorous and uplifting vibes.
Shining like a beacon for curious minds, this eclectic collection offers a moment of reprieve for those who want to forget about their mental health-related challenges, gifting you with light, laughter, and inspiring you with a message of hope. Euphoric Wonderland carries you down a rabbit hole of unusual and trippy experiences that gives you a newfound perspective on love, pain, life, and the joys – and struggles – of existence.
*Now in Full-Color with art by Matthew Revert*
Available for free on May 8th!
Buy the book:
Author Bio:
It is said that the best comedians are borne from tragedy, either at home or growing up in an outside world fraught with challenges and various personal demons. The same holds true for the literary realm.
Ryan M. Becker combines his acerbic wit and Sahara-dry sense of humor to tell poetic stories that ring true based on events that molded his life. What we as the readers fully sense throughout his seminal effort, Euphoric Wonderland, is that his well-placed sarcasm is truly the product of his life lived to date.