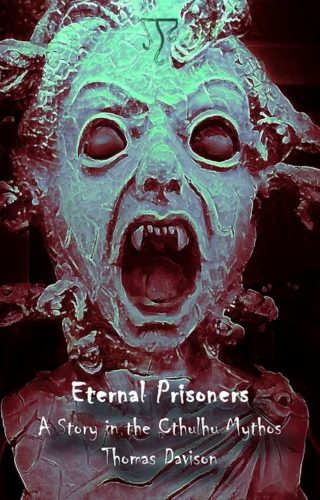 About Eternal Prisoners: A Story in the Cthulhu Mythos by Thomas Davison:
The Cthulhu cult has never been closer to unleashing the Great Old One.
With the help of modern technology, the unthinkable goal of the Cthulhu cult is closer than ever to being realized. As the remaining days until the worshippers of chaos gather to open a portal that will unleash incomprehensible horrors on the world wane, Professor Henry Silberhutte and his team must find a way to stop them.
As Silberhutte, psychic Sierra Masters, warrior John Steele, and soldier Frederick Masters fight the old gods and their human enablers, the revelation of a secret threatens the team. Will Silberhutte and John Steele, the team's strongest warrior, prevail against the Cthulhu cultists?
Find out in Eternal Prisoners. Available from Kindle Vella on June 1.
Chapter 1: Medusa available June 1.
Chapter 2: Night-Gaunts available June 8.
Chapter 3: Y'gala available June 15.
Chapter 4: Baldgura available June 22.
Chapter 5: Cthulhu Festival of Chaos available June 29.
Buy the book:
Author Bio:
I am 65 years old. I have been a teacher all of my adult life. I spent my time learning the craft of teaching until I retired. Three months into retirement, I was going crazy. I accepted a job teaching college coursework inside two State Prisons in Ohio. I am starting my sixth year of teaching incarcerated students, felons.
I was so profoundly moved by my observations and interactions with these students that in 2019 this motivated me to create poems and short stories about their day-to-day lives and experiences. I found myself starting new and learning a different craft—the craft of writing. I have been very fortunate and have been published over sixty times.
Dozens of literary magazines and journals, including Twisted Vine Literary Arts Journal, Author's Publish, Shanti Arts Literary Magazine, Innsaei International Journal of Creative Literature, Third Estate Arts Quarterly, and True Chili Western Magazine (Underwood Press).
My short stories have been published in many anthologies, including 42 Stories Anthology, Indiana Horror Review 2020 Anthology, Marketplace Journal, Forbidden Verses Anthology, Poetica #2, The Inner Circle Writers' Group Poetry Anthology 2020, and Sincerely Magazine 2019 Art Anthology.
Some additional publications include Active Muse Literary Journal, American Diversity Report, Badlands Literary Journal, Barzakh Magazine, Black Petals Literary Journal, Bluntly Magazine, Dime Show Review Literary Journal, Flowers & Vortexes, Creative Magazine, Huunu, Inc., Ponder Savant, The Preservation Foundation, Inc., The Storyhouse Writer's Showcase, Potato Soup Journal, Teach. Write., The Dribble Drabble Review, Too Well Away Literary Journal, Wilderness House Literary Review, and Scriblerus Magazine.
Podcasts where you can view some of my writings,
Creative Drive Podcast (YouTube) Prison Philosophy 101 Creative Non-Fiction, by Dr. Thomas Davison https://www.youtube.com/watch?v=pbe9_Z7bFio
Creative Drive Podcast (YouTube) Three Poems by Dr. Thomas Davison https://www.youtube.com/watch?v=BXDlEuRhqbY
A chapbook of my poetry called Different Prisons—a fiction novella entitled, The Boy With Strange Eyes. Just now (June 2022), I have a five-part serial entitled Eternal Prisoners. Later this year, in 2022, I will have two books and a serial published.
I have managed to win a few awards. I am most proud of my winning Petrarchan (Italian) sonnet, which was selected by the American Jewish Historical Society to be posted in the Emma Lazarus Museum. I have recently started a not-for-profit Entrepreneur Services for Felons (ESF). I have dedicated 100% of my writing profits to providing free one-on-one support services for felons and ex-felons. Also, I have created two Writing Clubs within the prisons. These incarcerated students are my beta readers to ensure that I speak in their voice and keep it honest.
The name of the book is Eternal Prisoners-A Story in the Cthulhu Mythos. It is available on Amazon and Kindle Vella. It is being released in five parts or serials. You can read the first three serials utterly free if you are an Amazon Prime member.
My inspiration for writing this book is fascinating. I discuss it in the forward of the book.
I am a lifetime fan of horror. As a young boy, the first horror book I read was by H. P. Lovecraft many years ago. I was hooked. My published work is predominantly about my prison experiences. I wanted to try my hand at my favorite genre of horror. The serial story Eternal Prisoners is that attempt. I intended it to salute the master—the first book's author. My close circle of fellow writers, and my beta readers, state it is a scary story. We shall see if what little I have learned about the craft of writing is enough. I must share with you that while submitting this story, I felt much like that nervous 12-year-old boy reaching for that Lovecraft book.