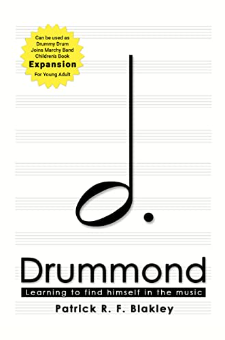 About Drummond: A novel by Patrick R. F. Blakley:
Drummond is tasked with joining his high school marching band's drumline and needs to find himself to succeed. You, like Drummond, might find yourself overthinking your life, or sometimes struggle to understand what you want to do with your future. The book is about figuring out who we are inside, then learning how to fit in. Drummond grapples and second guesses himself throughout the book, but dealing with outside factors isn't easy! Finding some unexpected help along the way guides him into his role in the band, and in life. When family life outside of band gets dark, Drummond needs to fit into his new family within marching band!
Drummond is the first novel by Patrick R. F. Blakley and it's a much more in depth and developed version of his previous Drummy story. Drummy Drum Joins Marchy Band is the preceding children's book, audio book, and activity book. Drummond is a similar story, based on the same events, but is written for an older audience. The events of the book center around the main character, Drummond, who is convinced to try marching band. If you know a young adult, or are young at heart, you will enjoy this story – even if you're not a marching band expert.
Buy the book:
Author Bio:
Patrick R. F. Blakley is a SAMMY award-winning percussionist from Syracuse, New York. He is a music judge for the New York State Field Band Conference and participated in the Macy's Thanksgiving Day Parade in 2018! He is currently a member of the Percussive Arts Society, the National Band Association, the National Association For Music Education, and the New York State School Music Association. He is also an artist/educator with Innovative Percussion, endorsed by Epiarch Drums, and is a WGI certified percussion judge.
Patrick wrote a children's book about a drum that joins marchy band. This book inspired his Drummond novel, which explores the question of why a drum would join the marching band in the first place. As it turns out, the drum was just a projection of his inner-self and Drummond had to find out who he really was inside! Drummond then uses that newfound information to try to fit in and connect with his new family!